CF2 Series
CF2 Series Flatbed Cutting Plotter with Outstanding Value
The Mimaki CF2 series cuts a wide range of media using a variety of heads and blades. The heads can be equipped with a tangential cutter, reciprocal cutter, marking gauge roller and swivel cutter, depending on the material that needs to be cut. Two machine sizes are available: CF2-0912 (90 x 120 cm) and CF2-1218 (120 x 180 cm).
CF2 Series delivers •••
Two cutting heads are available with a wide range of blades to choose from
Precise contour cutting with the patented Mimaki colour photo sensor
Half-Cut; by adjusting the depth of cutter blade, you can for instance Half-Cut composite, laminated material
Air suction unit to hold down the media
Ideal print and cut solution with Sign graphics and Industrial printers
Applications
Applications of the CF2 Series
CF2 Series is very suitable to cut sign boards in combination with the UJV-160 Hybrid UV Printer. Also CF2 is suitable to cut packaging carton and other industrial type of applications, such as gaskets.
Examples of applications
3D logos
Buttons
Fashion accessories (belts)
ID cards
Operation panels
Gasket for in between machine parts
Packaging materials
POS displays
Printed circuit boards
Signboards and display materials
Toys
Suitable cutting materials
Depending on head type and blade type
Channel board
Coated board for packaging
Corrugated fibreboard (E to A corrugation)
Industrial sheet rubber (max. 3 mm)
Paste board
Pattern happort
Plastic corrugated fibreboard
Reflective sheet
Sandblast rubber
Styrene board
Teflon (1-5 mm)
Vinyl
Vinyl chloride for packaging
Vinyl chloride sheet for signboard
As materials can differ depending on the manufacturer, the suitability of the material should be tested.
Features
Features of CF2 Series
Two cutting heads : TD and RC
The two available heads for CF2 series (TD and RC) can be equipped with different kinds of blades depending on the media to be cut. Any suitable blade available on the market can be mounted.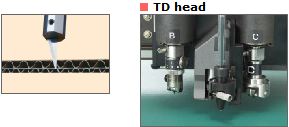 Tangential cutter
The tangential cutter steers the blades as it cuts. The motor controlled blade lifts and turns to start every cut at the exact angle. Both die cutting and half-cutting are possible. The tangential cutter enables cutting materials up to 1 cm thickness. Various materials, ranging from soft to rigid, can be cut.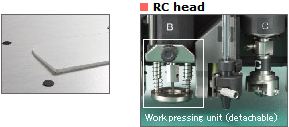 Reciprocal cutter
A reciprocal cutter is a cutting system that is characterised by up-and-down movements of the cutter blade (7000 times per minute) in addition to tangential cutting. The reciprocal cutter is especially suitable to cut corrugated board, cardboard and foam materials up to 2 cm thickness.
Head composition


---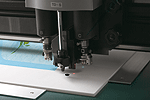 Mimaki's patented colour photo sensor
The patented Mimaki colour photo sensor reads registration marks that are printed on the media to enhance precise contour cutting of complex shapes. More precision is obtained by automatic correction of alignment and distances between the cutting data and the output. The light pointers can also be used to precisely position the media on the table.
---
Other useful functions of CF2 Series
Adjusting the depth of the cutter blade will enable users to die cut composite, laminated materials. Back cutting and repeated cutting are also possible with CF2 series. Other strong features include correction of starting and ending points, as well as press correction to ensure complete cutting and circle correction for cutting a nearly perfect circle.
---
User-friendly plug-in software
The CF2 series is included with FineCut plug-in software for Adobe Illustrator and CorelDRAW for Windows XP and Vista.
Specifications
Specifications of CF2 Series
| | | | |
| --- | --- | --- | --- |
| | HEAD | TOOL | PRESSURE |
| Head configurations | TD | A | Pen / swivel cutter 20 – 400g |
| | | | Tangential cutter 300 – 1,500g |
| | | | Marking gauge roller 1,000 – 5,000g |
| | RC | A | Reciprocal cutter 1,500g fixed |
| | | B | Tangential cutter 500 – 1,500g |
| | | C | High pressure tangential cutter/ marking gauge roller 1,000 – 5,000g |
| Effective cutting area | | | CF2-0912: 117 x 90 cm |
| | | | CF2-1218: 177 x 120 cm |
| Motorization | | | X, Y, Z, Ø axes DC servo |
| Maximum speed | | | 50 cm/s |
| Accuracy of repeatability | | | Plus minus 0.1 mm |
| Maximum cutting depth | TD | | 1 cm |
| | RC | | 2 cm |
| Media fixation | | | Table with vacuum system and blower function |
| Interface | | | RS-232C |
| Power consumption | | | Main unit less than 300 VA, |
| | | | blower: stated separately |
| Dimensions (w x d x h) | | | CF2-0912: 176 x 160 x 110 cm |
| | | | CF2-1218: 236 x 190 x 110 cm |
| Weight | | | CF2-0912: 140 kg |
| | | | CF2-1218: 180 kg |
Downloads
Downloads of CF2 Series
Please download the Mimaki CF2 Series brochure below.

---