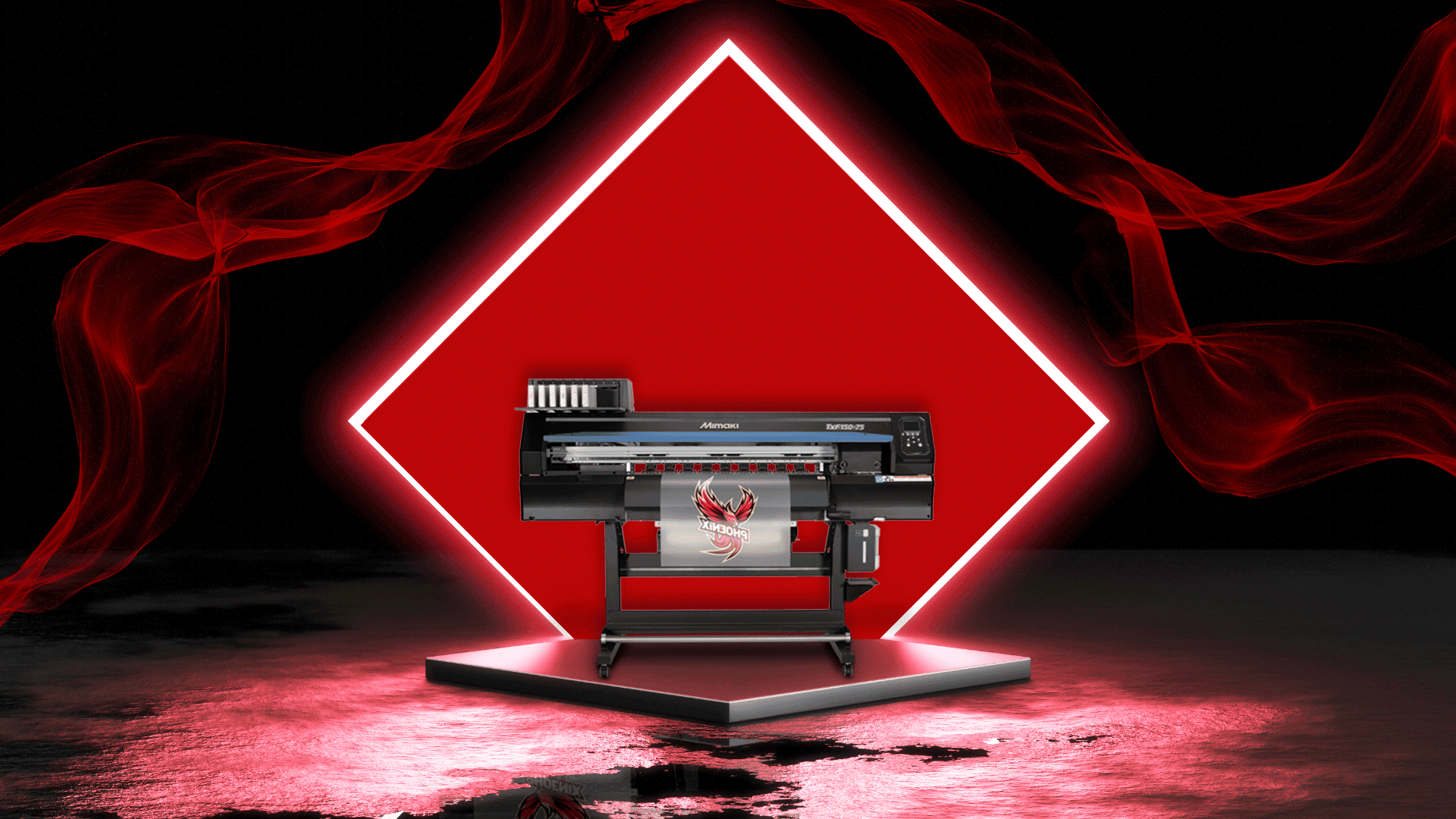 DTF Printer TxF Series
Mimaki's first DTF (Direct-to-Film) printers, packed with Mimaki technology
The all new TxF Series, including the recently released TxF300-75* and TxF150-75, are Mimaki's first DTF (Direct-to-Film) printers. Packed with Mimaki technology, they have been designed to overcome the common ink ejection and ink sedimentation issues of current DTF printers in the market. Using genuine Mimaki heat transfer pigment ink, which acquired ECO PASSPORT certification, it assures skin friendly printing at the highest image quality. This unique combination ensures a highly reliable and stable DTF print workflow, and is combined with Mimaki's guaranteed ongoing service and after purchase support.

INTRODUCING THE ALL NEW TxF300-75* – While both printers in the series offer the same superior Mimaki technology, the recently released TxF300-75*, with 2 staggered printheads, delivers new levels of productivity with speeds up to 3x faster than the TxF150-75 (one printhead), helping to expand opportunities in the market.
*The new TxF300 will be commercially available in the EMEA region in Q4 2023.
Degassed aluminum ink packs in reusable eco-case cartridge
White Ink Circulation
Nozzle Drop-out Detection (NCU & NRS)
ECO PASSPORT for PHT50 ink
Designed to produce DTF transfer sheets
for the wear printing market
Logos, images, labels, and personalisation to be placed on the chest, front, back, sleeves and inside of T-shirts, hoodies, work clothing, as well as promotional items including bags and caps.
Heat transfer pigment ink
The TxF Series uses Mimaki's genuine DTF ink PHT50.
PHT50 is a dedicated ink to print directly on DTF-specific film. It is then hot-melt powdered and heat-treated to create transfer sheets.
The ink, available in 5 colours (CMYK + White), offers high density and vivid colours while printing the smallest details.
Mimaki's guaranteed ink quality standards, in combination with the available colour profiles for the RIP, ensures a constant and predictable image quality for the long run.
For even more confidence
our inks are OEKO-TEX® certified
Mimaki inks PHT50 are OEKO-TEX® certified. ECO PASSPORT by OEKO-TEX® is a mechanism by which textile chemical suppliers demonstrate that their products are suitable to print skin-friendly clothing and other textiles for end users.
This certificate therefore constitutes an important decision-making element when purchasing inks for textile production.
This printer is packed with Mimaki Core Technologies that maximises production stability and image quality at all times. Refer to the below list of core technologies that are included in the TxF Series.
For continued productivity
Combine your TxF Series printer with:
Inline 800 – DTF Powder Shaker Cure Unit – by Adkins
Matching the maximum print width of the TxF Series printers, this powerful powder shaker cure unit ensures the even distribution of powder across DTF film rolls of all sizes up to 80cm in width.
• Low operating power consumption
• Built-in filtration, meaning no (external) extraction is required
• Media feed & powder applicator sensors (enabling the unit to stop feeding/powdering when there is no film and/or powder)
• Media suction control with pre-heat settings
• Finished print cooling fans allow for immediate handling
Model
TxF300-75
TxF150-75
Print head
2 heads (staggered)
On-demand piezo head
Print resolution
720dpi, 1,440dpi
Ink type/colour
Heat transfer pigment ink PHT50 (C, M, Y, K, W)
Ink capacity
600ml ink pack x 1 (500 ml for white only x 4)
600ml ink pack x 1 (500 ml for white only x 2)
Circulation function
Available only for white ink
Maximum print width
800mm (31.5 in)
Media maximum width
810mm (31.9 in)
Media thickness
1.0mm or less
Roll weight
45kg (99.2lb) or less
Interface
Ethernet 1000 BASE-T / USB2.0 Hi-speed
Power specifications
Main unit: Single-phase AC100-120 / 200-240±10%, 50/60Hz±Hz x 1
Power consumption
100V system: 0.9kW or less, 200V system: 1.2kW or less
Certifications
VCCI class A, FCC class A, ETL IEC 62368-1, CE Marking (EMC, Low voltage, Machinery directive, and RoHS), CB, REACH, Energy Star, RCM, KC
Dimension (WxDxH)
1,965 x 700 x 1,392 (77.4 x 27.6 x 54.8in)
Weight
126kg (277.8lb)
Software RIP
Mimaki's software RIP, which combines usability and high performance, comes with convenient DTF functions like variable data printing and white layer creation.
RasterLink7
Bundled with the printer. One RasterLink7 license can support a maximum of 4 printers.
PHT50
Heat transfer pigment ink
Dedicated ink to print directly on DTF-specific film, then hot-melt powdered and heat-treated to create a sheet layer for transfer.
Packaging
C / M / Y / K: 600 ml ink pack
W (White): 500 ml ink pack
Colour
5 colours: CMYK + White
Ink type
High density and vivid colours
Maximise your potential now!
Submit your credentials for more information on the all new TxF Series DTF printer including availability, competitive pricing and demonstrations. Our local dealer will contact you.
Request info
Request a demonstration
Want some action? Then enjoy a personalised demonstration, virtually or in person, and understand in depth how the all new TxF Series DTF printer can maximise your production output.
Request a demonstration
TxF150-75
TxF300-75