Marc Burnett of Large Format Review takes a look at the latest Mimaki innovation, the UJV55-320 UV superwide.
I spoke to three Mimaki resellers at the recent Sign & Digital UK show and all were excitedly waxing lyrical about a new printer that they referred to as a 'game changer'. I thought we ought to take a closer look at what exactly is causing this degree of excitability amongst normally cynical and seen-it-all-before resellers?
Enter stage left the new Mimaki UJV55-320 – a 3.2 metre superwide printer; performance is suitably high for the target audience and – at a UK list of £59,995 – the price is ridiculously low for what you're getting. In a nutshell: good pedigree, good performance and good price.
How has this new entry to the superwide sector changed the market though?
In simple terms, it fills the cavernous gap that has long existed between the most popular roll-to-roll printers found in the typical High Street sign and display print shop, and the vastly more expensive superwide offerings more usually found in sign and display print factories.
The new Mimaki UJV55-320 sits in between these two sectors by combining the affordability of the former, with much of the functionality and performance of the latter.
Historically the gap mentioned above is one that has long been filled by low-cost superwide printers, usually built by smaller manufacturers, and often of Chinese origin. Their primary benefit was greater width and higher performance at a lower price. Sadly, that lower price all too often came at the cost of both build quality and reliability.
I'm going to make a bold and perhaps even contentious claim here: The new Mimaki UJV55-320 has just killed the budget Chinese superwide market dead. Stone cold dead.
Mimaki has also dealt a significant blow to the established manufacturers. Any credible manufacturer with an 'entrylevel' 3.2 metre roll-to-roll is now going to have to take a long hard look at its pricing, because Mimaki has just created an entirely new price point in the market.
The simple truth? This is the best value 3.2m superwide on the market right now. Game changer? Yes, absolutely.
We've talked about what this new Mimaki potentially means for the market, but we've not yet looked at the UJV55-320 itself in any detail.
If you've seen the spec-sheets already, you can safely stop reading now and move on. For those that want the technical run down on the new UJV55-320 – and are perhaps looking for me to validate the above claims with some supporting data – here it is:
Technical Overview:
The Mimaki UJV55-320 is a 3.2metre wide printer and it's capable of printing concurrently on twin 1.5m wide rolls installed side by side.
It's a UV printer, cured by the preferable LED*, so no drying time. Anyone using an old hard-solvent superwide will be delighted that they no longer have to wait hours for their finished prints to de-gas.
Ink setup is ether 2 x CMYK for maximum speed, or CMYK plus light cyan, light magenta and white for optimal quality and white-ink versatility. If banner printing is your forte, you'd probably configure in 2 x CMYK for a speed of production that will allow you to produce 110 metres of printed banner an hour. Configured for 2 x CMYK, the quality is still beyond anything your customer could ever reasonably complain about. Print quality is 900 x 1200dpi in 2 x CMYK, or 1200 x 1200dpi in CMYK LcLm plus white. As regards white ink, it can be printed in 3 different modes which is particularly beneficial if you want to optimise how your banners and backlits look in both day/night, lights-on/lights-off conditions.
Talking of backlits – this is the perhaps the very raison d'être for this printer – it is absolutely perfect for the production of output that will be front illuminated or backlit. So much so that it actually features a built in lightbox for on-the-fly checking and proofing.
What else do you need to know? It has all of the other bells and whistles for which Mimaki printers are famous: nozzle-checking and recovery so printing can continue even with blocked nozzles; the UV inks can be folded and stretched 170%; ink cost is good at £80 per litre – giving ink production costs of circa 50p a metre; warranty in the UK is outstanding with the established engineering team of distributor Hybrid Services at your beck and call; an additional year's warranty can be added for £5995; and the printer can even send you an email on job completion – there's no obvious gap in it's features or functions.
In short, it's a Mimaki, so you'll get reliable performance that delivers exactly what you expect, day in and day out.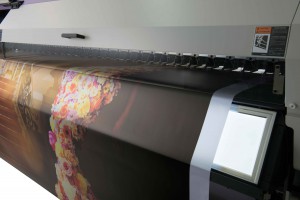 The UJV55-320 features a built in lightbox for on-the-fly checking and proofing of print for backlit applications.