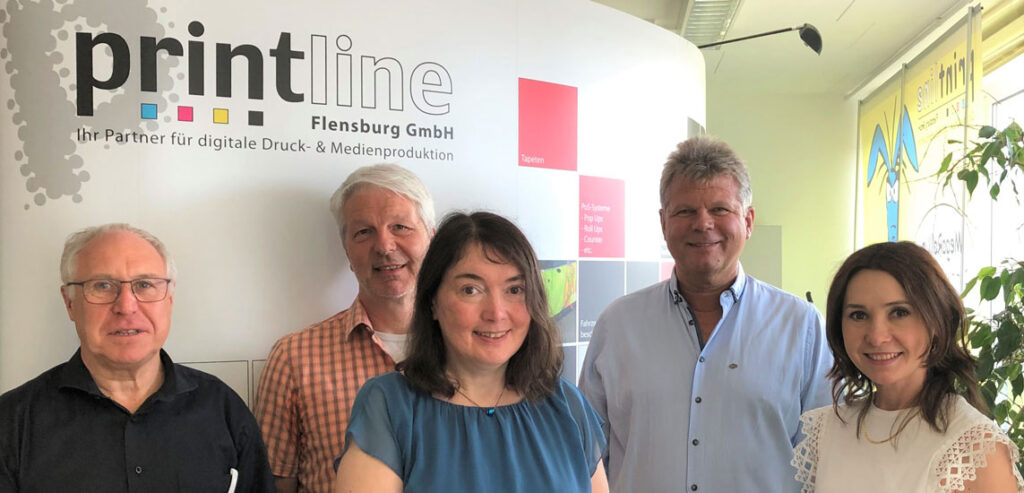 The inkjet printers from Mimaki have made it right to the top! – to the most northern tip of Germany. In Flensburg, Printline is producing unique promotional materials with two UV-LED printers and a cutting plotter from Mimaki, at a speed one wouldn't have thought possible from the "northern lights".
Anyone visiting Printline in Flensburg will immediately notice: it's not only printing on presses that happens here. It also boasts a range of small-format promotional items, large-format posters, signs and displays as well as complete trade fair systems. However, the products from the printed materials service providers will not only impress you with their extravagant designs, but also with their robust quality and unique features. "We produce almost exclusively unique items and small collections", explains Ralf Wieckhorst, the Owner and Managing Director of Printline. "We have now been relying on Mimaki for more than 13 years, as well as Mr Werner Diekmann, our service partner at Elektronische Publishing Systeme (EPS), with whom we have been working really well for decades."
Adhesion included
In 2009 Printline first turned to the technology of the Japanese manufacturer of large-format inkjet printers and cutting plotters, more precisely to a CG FX cutting plotter. A few years later, this was followed by a UV-LED flatbed printer that comes in a desktop size, the UJF-3042FX. In 2015 its "big brother", the JFX500-2131, moved into the 600 square metre factory of the northern German printing provider. "A reliable workhorse" is how Wieckhorst praises the productivity and versatility of the flatbed printer, which has a printing area of 2.1 by 3.1 metres. "A good all-rounder, with which we can tackle every new customer requirement," he adds. "We can print a huge range of items with the machine such as soft materials – from hoarding banners made from mesh, rigid foam boards for trade fair displays to reboard for seating or backlit glass pictures for museums. Substrates with a thickness of up to 50 millimetres and even polyethylene terephthalate (PETG) can be printed directly with the inkjet to create deep-drawn objects as specified by our customers, who are no longer only from the Flensburger Fjord."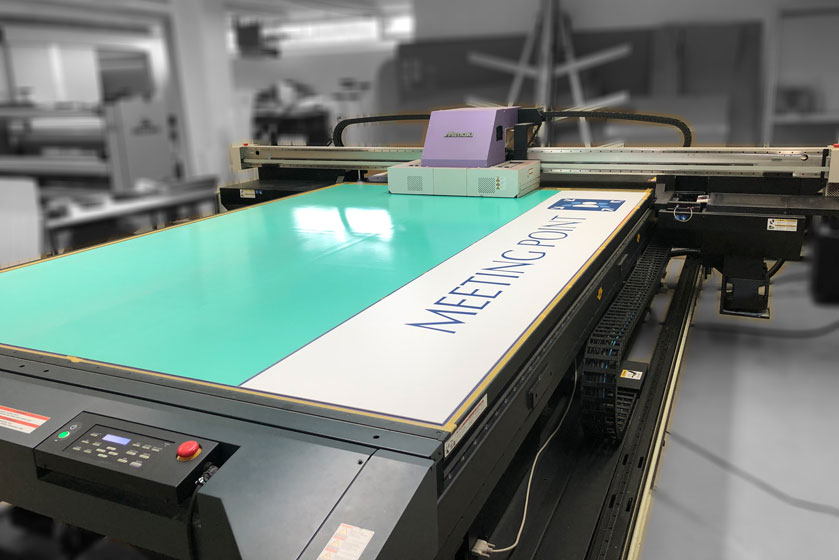 The JFX500-2131 is still a reliable printing partner for Printline, even in the tricky seventh year: With the UV-LED flatbed printer from Mimaki, Printline produces a wide range of large-format promotional materials and trade fair structures.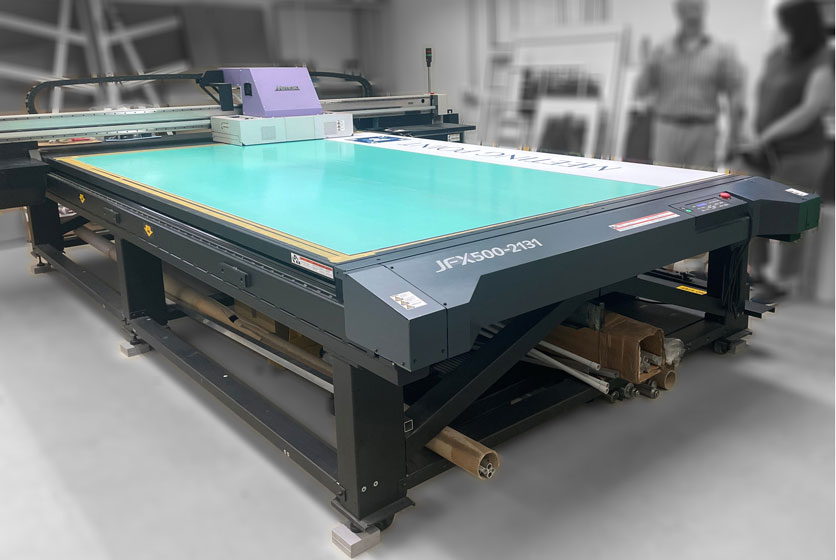 Mimaki's JFX500-2131 large format flatbed LED UV printer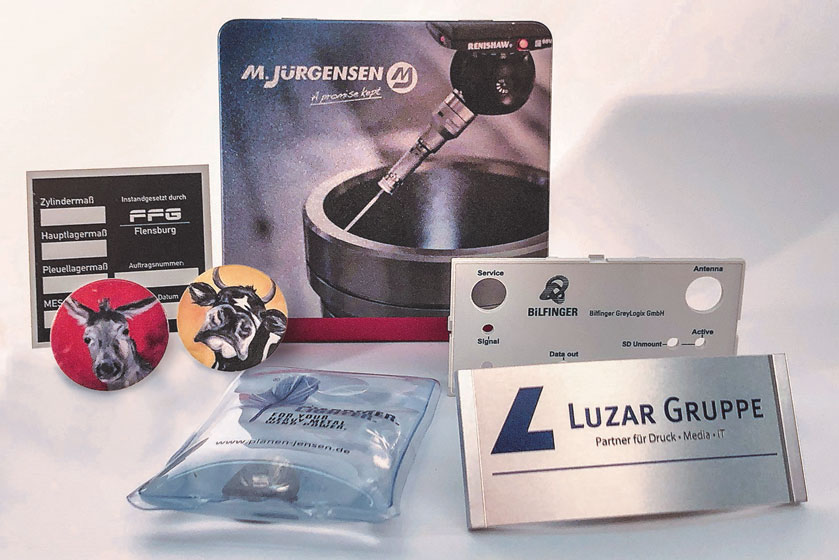 Promotional items in line with customers' wishes: even handwarmers filled with gel and cooling pads are personalised by Printline with the UJF-3042FX.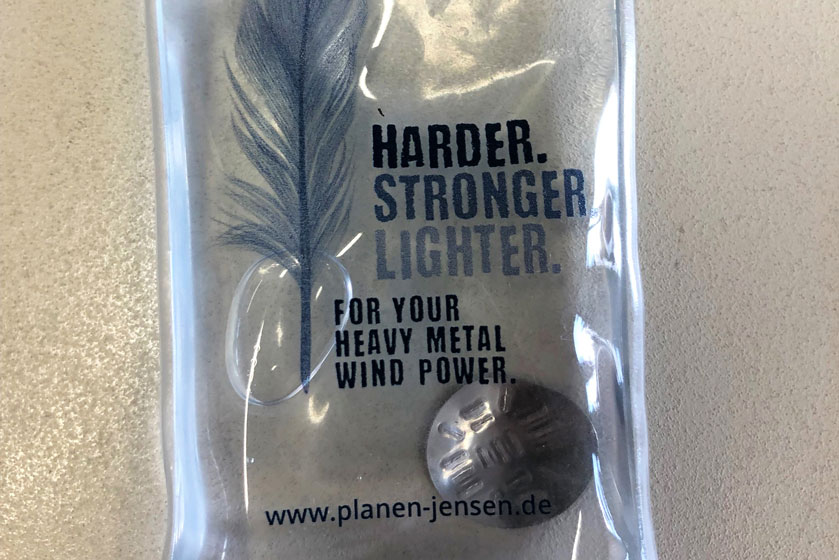 Printline application hand warmer with gel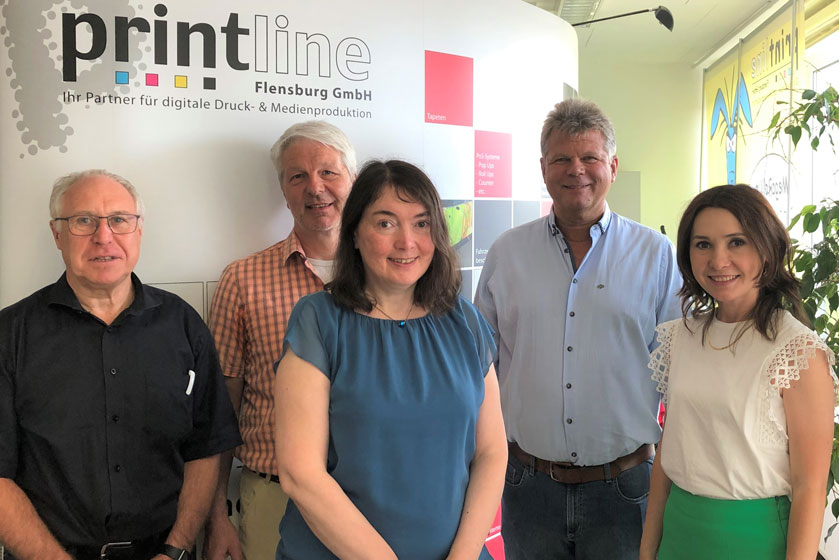 The team from Printline together with Mimaki Germany
"Through the three Mimaki printers we have moved from being a digital printer for small-format, LFP and advertising technology to a broad-ranging, national, sought-after printing service providers," says the qualified letterpress and offset printer delightedly. "With Mimaki's technology we can satisfy most of our customers' wishes," he states. Although small-format promotional items, such as magnets, handwarmers or tin boxes are printed by Printline in relatively small print runs, they have a lot of style and character. "The UJF is also a tireless and versatile workhorse, which can print almost every material and also items with relief effect," says Wieckhorst. With UV-LED curing and primers, the small printer is not at all inferior to the large one. The Flensburgers prefer to print something special on the JFX500. However, regardless of whether it's a textile banner with a long-range effect, filigree art or sustainable Dispa paper posters, the quality is unbeatable with a maximum resolution of 1,200 dpi. "The smallest lettering is displayed precisely, colours appear even on flexible media, such as goal nets, even if the inks don't adhere equally well to all the surfaces," says Wieckhorst. "As both systems also print white ink, we are able to achieve shock-resistant adhesion, even on difficult substrates, such as metal or acrylic. In addition, the white also allows the colours to shine on a coloured or transparent background," according to the print expert.
It can't be any faster – or can it?
Sometimes, it's not only supposed to be good, but also fast. "We often supply from one day to the next," says Wieckhorst. "That's not a problem for Printline with the fast printing and curing UV-LED systems from Mimaki. With a top speed of 60 metres per hour, the JFX500 is one of the fastest of its generation." However, since the end of 2021, the next generation has already been on the start line. "With 16 printing heads and a speed of up to 200 metres per hour, the JFX600-2513 is the fastest UV-LED flatbed printer from Mimaki", confirms Fumi Machida, Marketing Communications Coordinator Mimaki Germany, adding: "The new model is also the most modern one. The JFX600 enables 2.5D-printing, is IoT-capable and even has an inbuilt PC with Mimaki printer controller software." Anyone who would like to see this for themselves, can have a personal demonstration of the performance of the JFX600-2513 in the Mimaki branch in Munich.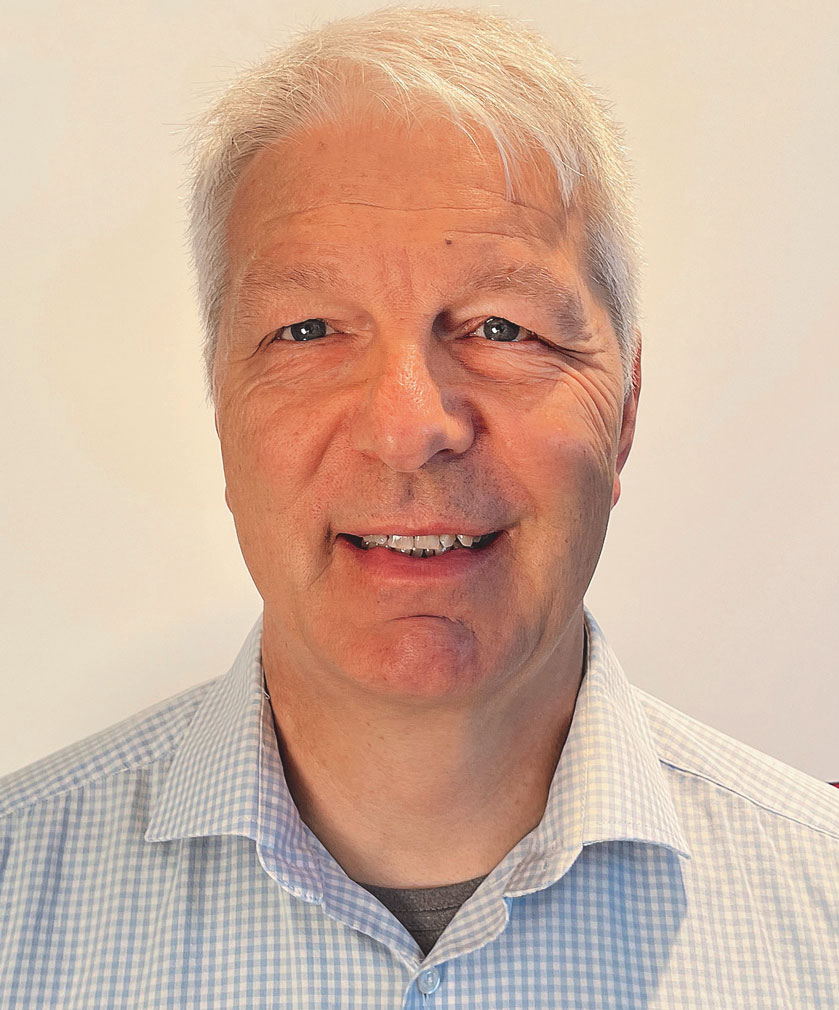 Owner and Managing Director of Printline Flensburg – Ralf Wieckhorst