European January 2016 trade show schedule focuses on textiles, promotional items and signs & display graphics
Amsterdam, December 18, 2015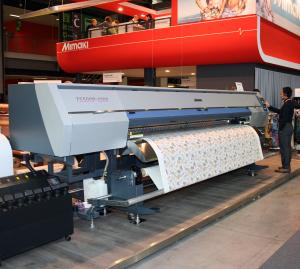 Mimaki has a full show schedule planned for January 2016. The company will be exhibiting at no less than three major trade shows, each focusing on its own specific field of interest:
Heimtextil, the largest international trade fair for home and contract textiles. Heimtextil is scheduled for 12 to 15 January at Messe Frankfurt, Germany. Mimaki will be located in Hall 4.0, Stand F15.
PSI Düsseldorf, the leading international trade fair for the advertising industry. Hosted by the Promotional Product Service Institute, PSI 2016 is scheduled for 13 to 15 January at Messe Düsseldorf, Germany, where Mimaki will be in the Technology Forum, Stand 12B13 TF.
Salon C!Print Lyon, France, scheduled for 26 to 28 January, perfectly tuned to the evolving needs of the printing market, which requires creativity and innovation. The Mimaki team will be inspiring attendees at Stand 2K12/L11.
"No time to rest on those mistletoes come 2016," says Mike Horsten, General Manager Marketing EMEA at Mimaki Europe. "All three shows are important venues to showcase Mimaki's broad range of solutions for the printing and visual communications industries, from textile printing to signs & display graphics and promotional items to general commercial print applications. We'll be out in force at all three shows to inspire attendees with new digital solutions poised to transform their businesses."
Digital textile printing: A growth market
At Heimtextil, Mimaki will have a full product line-up on display, with solutions that make it easy for visitors to expand their digital textile printing capabilities or implement new ones, printing vibrant, durable colours on a broad range of materials. Visitors will experience:
The TS500P-3200, a 3.2 meter concept printer that prints on transfer paper with sublimation ink.
The TS300P-1800, a 1.8 meter printer that also prints on transfer paper and will be shown using brilliant pink and yellow fluorescent inks, much in demand especially in the sports garment industry.[1]
The TX300P-1800, a 1.8 meter printer that prints directly on textiles with disperse dye ink, enabling printing directly on polyester, as well as with textile pigment inks for printing on cotton. A smash hit at the recent ITMA 2015 show.
The JV400LX, using CMYK, Orange and Green Latex inks for printing wall coverings with a stunning colour gamut.
"Digital textile printing has evolved past simply printing samples or one-offs," Horsten adds. "Designers and manufacturers can take advantage of the Mimaki textile printing family for short to medium production runs of unique fabrics for a variety of uses, from home decoration to fashion to industrial. Visitors to our stand are sure to be impressed by the opportunities these printers generate."
Mike Horsten, General Manager Marketing EMEA, Mimaki Europe BV, will also be presenting at the European Digital Textile conference on January 12th at 11h-11h20 in Hall 4.0 on "The new supply chain for super-fast home textiles".
Promotional printing reinvented
At PSI 2016 in Düsseldorf, Mimaki's outstanding printer and cutting plotter portfolio will take center stage. Manufacturers of promotional items will find unique solutions that enable printing on three-dimensional items and a wide range of other promotional materials. These include:
The brand-new UJF-7151 plus, which will also take the limelight at C!Print Lyon. It is the next generation model of the world's best selling UJF Series line from Mimaki. Its design and technologies enable sign, specialty graphics, and award and personalisation companies to realise the benefits of digital printing with higher margins and lower production costs, without compromising quality.
The JFX200-2513 LED UV flatbed printer ideal for signs and display graphics that prints on a wide range of substrates with a choice of inks, including white and clear. It's easy to use and has a compact footprint to fit into almost any production space.
The UJF-3042HG, including the Kebab option to enable printing on round surfaces and cylinders, a tabletop flatbed printer that can print on a variety of substrates, including plastics, metal, wood, leather and glass in sizes up to 30cm x 40cm. There are three different UV-curable ink types available, plus white and clear, to address a huge variety of printing needs.
The CFL-605RT compact flatbed cutting plotter, the ideal complement to Mimaki digital printers. This 50cm x 60cm cutter supports on-demand production with multiple functions including reciprocating, tangential and eccentric cutting, plus creasing for immediate finishing of packaging and prototypes.
"Our Kebab option is always a big hit at trade shows, especially in the promotional items space," Horsten explains. "It opens up a variety of brand-new options for manufacturers of promotional items that were not available before. We are looking forward to showing off the applications, along with the rest of our portfolio, at PSI 2016."
PLUG&PLAY SVP at Salon C!Print Lyon
At C!Print, Mimaki will once again participate in the event's PLUG&PLAY Creative Workshop with its JFX200-2513, an affordable, high performance UV LED flatbed printer also being shown at PSI 2016. The purpose of this project is to demonstrate how companies can display their visual identity in temporary locations including pop-ups, combined with multichannel communications. In addition, Mimaki will be showing:
The UJF-7151 plus direct-to-object production flatbed printer
The UJF-6042 flatbed printer with the CFL-605RT compact flatbed cutting plotter.
The UJF-3042HG with the popular Kebab option for the ultimate in-production flexibility.
The TS300P-1800, printing on transfer paper for fabric applications and featuring yellow and pink fluorescent inks.
"We will also have all four of our latest solvent printers at the show," Horsten concludes, "the JV300, JV150, CJV150 and CJV300. This broad array of solutions ensures that we will have something for everyone, and we look forward to welcoming visitors to our stand."
[1] Check out the blog dedicated to the (print in) sports segment.