Ideal for fast, high quality sample or small-lot production
Amsterdam, October 20, 2015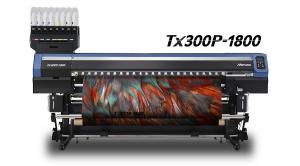 Mimaki, a leading manufacturer of wide-format inkjet printers, today announced that it will be introducing a brand-new direct-to-textile inkjet printer at ITMA 2015 in Milan, Italy, scheduled for November 12 to 19. ITMA is the world's most established textile and garment machinery exhibition, bringing together industry leaders for a discussion on emerging trends and innovative solutions. In Hall 18, Stand C104, Mimaki will debut the Mimaki TX300P-1800, an innovative 1.8 meter roll-to-roll direct-to-textile inkjet printer. Its predecessor, the Tx2-1600, has been used for textile printing worldwide for the last 14 years.
"The TX300P-1800 is designed to meet the market demand for smaller lot sizes, faster delivery times and the ability to quickly produce samples," says Mike Horsten, General Manager Marketing of Mimaki EMEA. "We are also mindful of the shift in textile production from both analog to digital and from centralized to distributed production. We envision a day not too far in the future when consumers will be able to download or create their own patterns rather than being limited to commercially available designs. The TX300P-1800, which is available with a variety of ink types and produces very high quality, is ideal for this new distributed model of textile printing."
Future-proof technical features
Designed specifically for direct-to-textile printing, the Mimaki TX300P-1800 8-colour inkjet printer features a new printhead that ejects ink droplets at high speed to ensure accurate ink droplet placement with a high head gap. This makes the printer ideal for printing high quality images on all types of fabrics, including thicker and textured materials. Other features include:
• Print resolution of up to 1080 dpi with drop sizes ranging from 6 to 24 pl. Small droplets create beautiful high-resolution printing, and large droplets are useful for high-speed printing.
• Print speeds more than twice as fast as that of a conventional printer at up to max 68 m2/hour.
• Stable textile transport that maintains optimum tension, based on Mimaki's unique and reliable techniques developed over years of textile inkjet printer research and development.
• A choice of sublimation dye, disperse dye, pigment, reactive dye, and acid dye inks to meet a wide range of application needs. Sublimation dye inks are available at commercial launch with other inks following soon. 2-Liter ink pack available for uninterrupted printing on longer runs.
• Uninterrupted printing with automatic detection and cleaning of clogged nozzles. The Nozzle Recovery System ensures that good nozzles are used as substitutes when clogged nozzles are not recovered after cleaning.
• A choice of powerful digital front ends, including standard Mimaki RasterLink6 or the TxLink3 Lite. The latter offers simple RGB and CMYK colour replacement on raster and vector data to more accurately achieve corporate and other special colours, as well as the ability to produce different colour patterns.
• Production of large, seamless patterns from a single image, including repeat and mirror patterns.
• Simple creation of multi-colour ICC profiles using Mimaki's unique profile Wizard.
"We are looking forward to hearing what ITMA attendees have to say about the TX300P-1800," Horsten adds. "We think its quality, speed and affordability will generate ideas about many new opportunities in the eyes of visitors, and we look forward to working with them to change the way textile printing is accomplished in the future."
Commercial availability of the Mimaki TX300P-1800 is targeted for December 2015.
More inspiration on textile print? Have a look at the blogs Mike Horsten has written on this topic at: https://www.mimakieurope.com/blogs/printing-for-sports/ and https://www.mimakieurope.com/news/the-story-of-the-little-blue-dress/