Increased throughput with "mount while print" toggle function
Amsterdam, August 31, 2016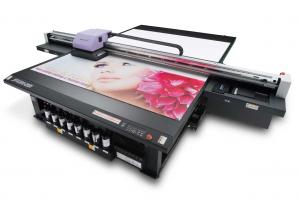 Mimaki today announced the availability of a new model in its popular JFX200 product family. The UV-LED flatbed JFX200-2531 builds on the success of the entry level JFX200-2513 model with twice the printing area and a unique "toggle print" function that increases throughput by allowing operators to mount one board while another is printing.
"The current JFX200-2513 has seen great receptivity in the market," said Mike Horsten, General Manager Marketing of Mimaki EMEA. "But our customers are always looking for more! And in this case, they asked for the same great performance but with a larger table. The JFX200-2531 meets that requirement with twice the printing area. And we even took it a step further by including the "toggle print" ability for continuous operation and increased throughput."
The new large flatbed UV-curable inkjet printer is compatible with media as large as 2,5 x 3,1 metres, increasing the application range to accommodate large signs, wall decorations, doors and other large items. It can also accommodate two signage boards of the popular size of 1.220 mm × 2.440 mm (4 ft × 8 ft), allowing organisations to benefit from the added productivity enabled by the toggle print function. "The JFX200-2531 is the ideal flatbed printer for growing sign and display companies," Horsten added.
In addition, the JFX200-2531 features:
Stable media handling for improved image quality and an ionizer that eliminates electrostatic discharge that can affect image quality.
A standard vacuum pedal for hands-free operation of the media vacuum power.
An anti-banding function and variable dot printing for smooth images.
A wide range of ink types to accommodate the broadest range of applications, including:

LH-100 scratch resistant ink;
LUS-120 and LUS-150 inks suitable for printing on soft materials;
LUS-200 ink ideal for outdoor applications with resistance to sun, rain and other weather conditions; and
LUS-350 ink, a unique, stretchable ink suitable for a wide range of thermoforming applications that can stretch up to 350% without cracking.
"Our customers talked, and we listened," Horsten concluded. "We think they will be extremely pleased with this new printer and the capabilities we have added. Now, Let's Create … Together!"
Specifications
JFX200-2531
Printhead
On-demand piezo head
(2 print heads in staggered configuration)
Maximum media size and printable area (W x D)
2,500 mm x 3,100 mm (98.4 in x 122 in)
Accommodates two 1,220 mm x 2,440 mm (4×8 ft) boards
Media thickness
50 mm (2 in) or less
Maximum media weight
50 kg (110.2 lb) per m2 or less
Ink
Type/
Colour
LH-100, LUS-120, LUS-150, LUS-200, LUS-350
C, M, Y, K, LC, LM, W, Cl + Primer
Packaging
1L ink bottles
Interface
USB 2.0
Certifications
VCCI CLASS A / FCC CLASS A / ETL UL60950-1 /CB
CE Marking (EMC, Low voltage, machinery directive and RoHS)
Power supply
Single-phase AC200-240V, 12A or less, 8A or less (Two inputs)
Power consumption
2.88 kVA, 1.92 kVA (Total: 4.8 kVA)
Operational environment
Temperature: 15–30 °C (59–86 °F)
Humidity: 35–65 %Rh (No condensation)
Dimensions (W×D×H)
4,400 mm × 4,290 mm × 1,250 mm (173.2 in × 168.9 in × 49.2 in)
Weight
Approximately 1,000 kg (2,205 lb)