Italian distributor Bompan will present the manufacturer's graphic arts, industrial and textile solutions
Amsterdam, September 17, 2015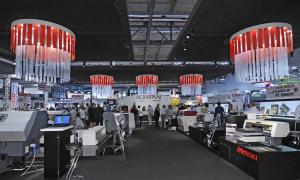 At Viscom Italia 2015, Mimaki's Italian distributor Bompan, will be demonstrating visionary and versatile ways to be more creative and to cost effectively develop more impactful products in graphics arts, industrial production and textiles. Bompan will be located in Hall 8 at the show, which is scheduled for October 15 -17, 2015, in Milan.
Bompan Marketing Manager Rachele Bompan comments, "As we did last year, we are dividing the booth into three clear sectors by industry so that visitors can focus on their primary area of interest. And we are excited to be demonstrating no less than 23 Mimaki solutions! Visitors will be able to clearly see and understand the impact each of these solutions can have on their operations, and our goal is that each will leave the show with a clear plan of action that will lead to business growth and increased profitability."
"Viscom is a fantastic platform for us to demonstrate exactly what our ever growing portfolio of solutions can deliver," states Mike Horsten, General Manager Marketing EMEA at Mimaki Europe. "We are looking forward to helping ambitious operations improve and expand their services across a broader range of sectors. We are also keen to demonstrate our tried and tested systems and discuss how they have helped other operations embrace new markets. And best of all, we are very excited to be able to present new and updated products at the Bompan stand that will create even more opportunities for our customers."
Industrial, textile and graphics – all markets covered
In graphic arts, Mimaki will be demonstrating a vast portfolio of sizes, technologies, inks and spot colours. In addition to printing and cutting equipment, visitors will experience all of the different ink sets, both solvent and UV, that Mimaki users can choose from to differentiate themselves for vibrant signs and display graphics produced on a wide array of substrates. Printers on display range from the CJV-150 and market favourite CJV-300 solvent integrated printing/cutting solution to the JV300 series and the JV400 SUV series that sets a new industry standard by combining the flexibility of solvent printing with the durability of UV cured inks.
"Why a Mimaki UV printer is the best market investment" is the theme for the industrial production area. Mimaki's unique Kebab option, which enables 360⁰ printing on cylindrical objects, will be shown on the Mimaki UJF-6042, while metallic effects and other special finishes will be demonstrated live. The Mimaki JFX200 UV-LED will spark ideas with visitors on how they can unlock new industrial markets using Mimaki's new clear ink and primer, while the unparalleled matt white ink will be demonstrated at blazing fast speeds on the JFX500. Also on display will be the high-productivity roll-to-roll UV-LED printer UJV500-160 with unique UV inks, offering exceptional weatherability for outdoor applications.
The textile area will feature a broad portfolio of solutions supporting the leading profitable trend of the moment – sublimation on polyester. This will range from the entry-level Mimaki JV150 that ensures creativity and versatility with vibrant ink types, up to the TS500-1800, the fastest wide-format dye-sublimation inkjet printer in its class today. Also, being shown for the very first time in Italy is the TS300P-1800, capable of running very thin paper at high speed and producing brilliant sublimation output.
Many of the systems are able to run Mimaki's excellent SB53 and SB300 sublimation inks that deliver competitively priced brilliant and high-density colour. These were awarded the OEKO-TEX® accreditation for direct skin contact earlier in the year.
Bompan will celebrate the anniversary of Mimaki's cutting plotters as well as highlighting software and accessories that extend the innovation delivered by the hardware.
"There is so much for visitors to see," adds Horsten. "No matter what their area of expertise, there is a solution that will help them enhance their offering, expand their creativity and improve their profitability. I'm sure the eye-catching stand in Hall 8 at Viscom Italia will work its magic!"
One-to-one interviews can be arranged by contacting Maya Staels at duomedia