Education, awards, new ideas and heavy traffic marked return to positive business environment for sign & display graphics business
Amsterdam, June 5, 2014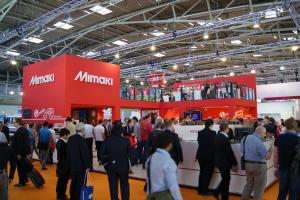 Mimaki today reported that FESPA Digital 2014 marked one of its most successful trade shows ever. Held in Munich, Germany, 20-23 May, the show delivered significant results for Mimaki and for the industry as a whole.
"We had high expectations for FESPA Digital 2014, and the show did not disappoint," said Mike Horsten, General Manager Marketing EMEA for Mimaki Europe. "As a platinum sponsor of the show, Mimaki is perhaps a bit biased, but I believe most exhibitors and attendees will agree when I say that FESPA Digital 2014 simply radiated with the enthusiasm that visitors brought with them to Munich. We certainly felt it in the Mimaki stand!"
Awards and More Awards
Mimaki Europe was pleased to sponsor and present the Young Designer Award to Eleni Bourazanis at the show. Contestants were able to enter their portfolios for a chance to gain recognition for their talents and to win a six-month internship at Mimaki Europe. They were judged on their creativity, business outlook and eagerness to have the internship opportunity. Bourazanis said, "Fashion is my passion, and I have been focused on screen printing in the past. But I've been blown away by the possibilities presented by digital printing. What better company than Mimaki Europe as a stage for me to explore these possibilities further. In the end, I just want to design, having access to the outstanding tools Mimaki provides will give me new ways to explore my passion while adding value to the Mimaki team."
Horsten added, "Eleni has the creative mindset to thrive well at Mimaki Europe. We are excited to have this talented trainee to strengthen our team. She'll fit right in with our culture of Let's create… together."
And the awards didn't stop there. Mimaki was honored with two European Digital Press Association (EDP) Awards. The Mimaki JFX200-2513 wide format printer with LED curing was selected from a crowded field of submissions for Best Flatbed/Hybrid Printer up to €200K, and Mimaki's KEBAB option for 360-degree direct printing on cylindrical products was named Best Multi-Purpose Object Printer. The awards were accepted by Mike Horsten, General Manager Marketing for Mimaki EMEA at a special awards ceremony held during the show.
Creative Exchange of Ideas Highlighted Event
FESPA launched educational hubs at the show, offering a blend of presentations, debates, networking and demonstrations. "We were pleased to be the sponsor of The Digital Hub," Horsten said. "We believe that educational opportunities – both for us and for attendees – are a critical aspect of any trade event. I had the opportunity to speak there several times during the show, and it was an extremely rewarding experience. The exchange of ideas that occurred both there and during the live streaming of our press conference inspired us and provided invaluable food for thought for our future developments. It was great to talk about the industry with the industry, including peers, visitors, press and analysts."
New Products, New Opportunities
Mimaki was also thrilled with the response from attendees to three new products demonstrated at FESPA Digital 2014.
The JFX200-2513, a compact UV printer that can easily fit into facilities of almost any size and an affordable price to match. Its variable dot function ensures less granular and higher quality prints by jetting three ink dot sizes at once, and it features white ink for brilliant images, compelling backlits, and other items printed on transparent materials.  It includes two different ink types that support a wide range of materials and applications:

LH-100, a hard UV cure ink with high rub and chemical resistance with excellent color fidelity;
LUS-150, a affordable UV cure ink with suppleness that extends to 150%.

The Tx500-1800DS direct sublimation printer is ideal for flags, sign, display, textile and soft signage segments. It features a new Sb300 ink that is more affordable than conventional ink, as well as increased print speed for polyester fabrics.
The JV300-130/160 is a solvent inkjet wide format printer family. These printers are extremely flexible as they can be used for both solvent and water-based sublimation printing. This makes return on investment and the profitable development of new applications faster and easier than ever before for sign and display graphics businesses of all sizes. They are suitable for a wide range of applications including outdoor signage, posters, interior decorating and vehicle wrapping and reeled in many visitors to the stand.
Mimaki experts also stayed busy during the show, speaking with visitors about their goals and objectives and helping them match those needs to the most appropriate Mimaki Europe solutions.
"Throughout the show," Horsten concluded, "we felt nothing but positive vibes, both in terms of visitor circulation at our stand and at the party we hosted during FESPA Digital 2014 to celebrate 10 years of Mimaki Europe. We secured great new sales leads and were re-energized by the level of enthusiasm expressed by everyone that was there. We are looking forward to next year's FESPA 2015 and are already planning on how to beat the benchmark we set this year!"