Turnkey solution makes delivery of short-run signs & displays and samples faster, easier and more profitable, in combination with JFX200-2513 flatbed printer and ArtiosCAD
Amsterdam, October 11, 2017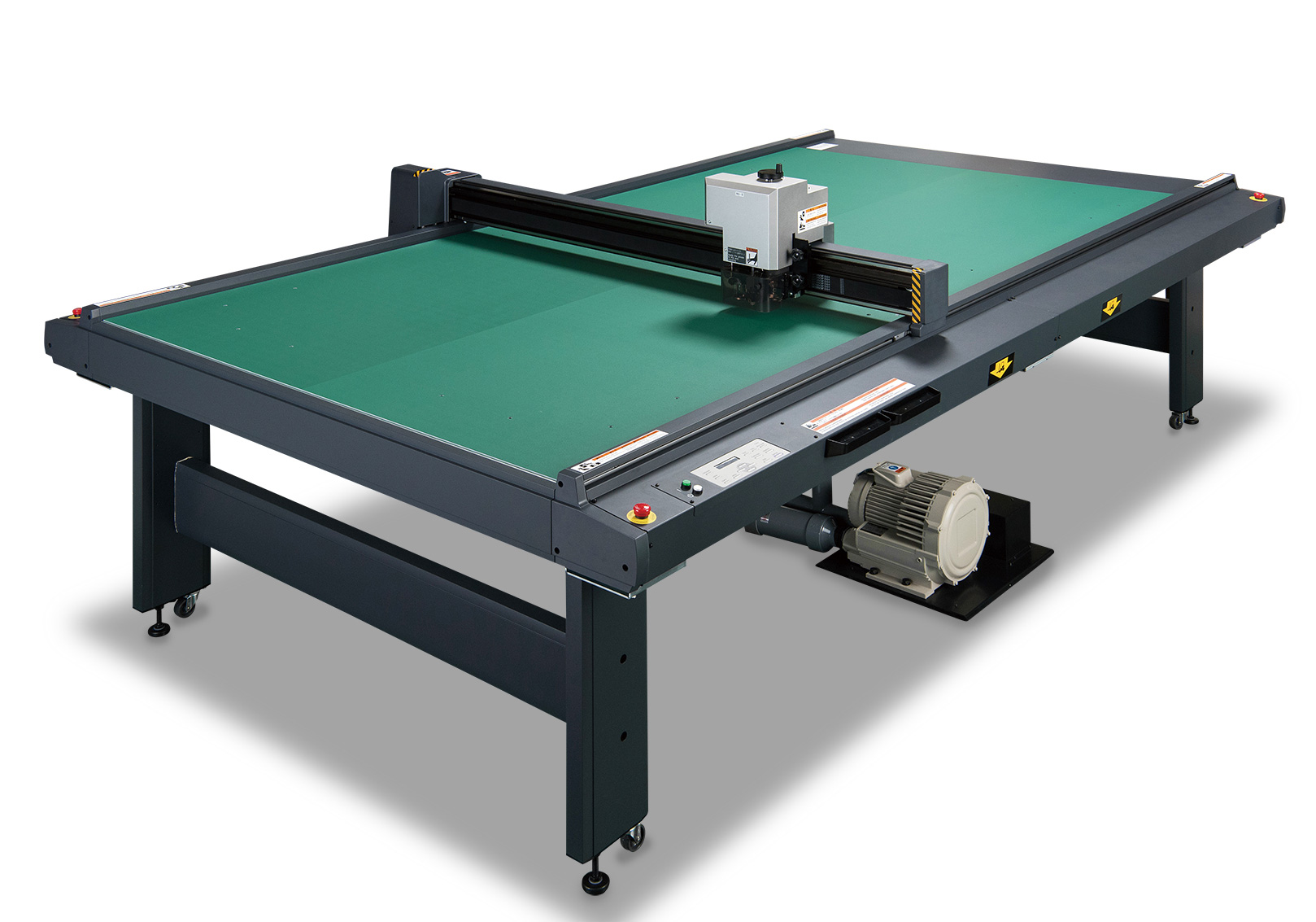 Mimaki today announced the launch of the Mimaki CF22-1225 flatbed cutting plotter. The new cutting solution handles materials as large as 1220×2440 mm and is the ideal complement to the Mimaki JFX200-2513 for on-demand production of seasonal POP displays or exhibit components. With the addition of ArtiosCAD Designer Solution software, the two machines make a complete print-and-cut workflow for creating custom packaging or prototypes. Together, these three components will set sign & display graphics professionals on the path to delivering more profitable short-run, print-and-cut jobs. The brand new CF22-1225 will be on display on the Bompan stand at Viscom Italia, scheduled for 12 to 14 October in Milan. Bompan is located in Pavilion 8, stand E23/E27/G20 at the show.
"We have brought to bear our extensive knowledge of cutting solutions in the development of the new CF22-1225 cutting table," says Ronald Van den Broek, General Manager Sales at Mimaki Europe. "Combined with the JFX200-2513 flatbed UV inkjet printer and ArtiosCAD, this offering is an ideal end-to-end solution for cutting and creasing coated cardboard, as well as reciprocating cutting of foam material used for packing."
Van den Broek continues, "In addition, Mimaki UV LED inks can print on a variety of materials, including uncoated substrates, with vibrant full-colour results. Whether organisations are developing sophisticated short-run signs and display graphics, creating packaging mock-ups or samples, handling special requests for small lot furniture, or simply creating and producing designs on demand, this solution will not disappoint. It enables businesses to deliver high-value, high-margin premium services. At the same time, the solution can reduce the need to turn down projects or outsource work."
ID Cut function in RasterLink6 plus software
The latest version of the widely used Mimaki RasterLink RIP software includes an ID Cut function to make printing and cutting easier and faster. In addition to registration marks, RasterLink6 plus software can include a barcode on the print. This barcode, read by the crop mark sensor on the CF22-1225, contains cutting and rotation information allowing the automation of the cutting process. This function is particularly useful when running nested print-cut jobs, as the cutter continuously reads the data for both single and combined jobs.
RasterLink6 plus software also includes the FineCut plug-in for Adobe Illustrator, allowing a convenient print preview to minimise errors prior to the print-and-cut operation. In addition, a wide variety of selectable cutting tools allows cutting of industrial materials such as acrylic, foam and rubber with a thickness of up to 55 mm.
Fast turnaround for special projects
By implementing the complete print-and-cut workflow, companies will be able to process orders, from design through finishing, in a highly integrated manner. Customers can be confident that their service provider can produce high quality, short-run and fully designed packaging or signs & display graphics.
The Mimaki CF22-1225 is expected to be available at the end of 2017.
Product specifications
Item
CF22-1225
Effective plotting area
2,500×1,220 mm (98.4 x 48.0 in)
Max. Media size to be set
2,600×1,360 mm (102.4 x 53.5 in)
Motorisation
X/Y/Z/Θ axis: DC servo motor
Maximum plotting speed
55 cm/sec
Cutter head type
For Industrial: T/TF/RT head
For Package: TD/RC head
Cutting pressure
Eccentric cutter: 20 to 400g
Low pressure tangential: 300 to 1,500g
High pressure tangential: 1,000 to 5,000g
Creasing roller: 1,000 to 5,000g
Static accuracy
Repetition accuracy
±0.1 mm
Distance accuracy
±0.1 mm or ±0.1% of movement distance, whichever is greater
Origin reproducibility
±0.1 mm or less
Perpendicularity
±0.7 / 2500 mm
Media stabilisation
Vacuum suction by blower
Receiving buffer capacity
27MB (17MB while sorting)
Command
MGL-Ⅱc3
Interface
USB 2.0 (Full Speed), RS-232C, Ethernet
Safety standard
VCCI-class A, FCC-class A, UL60950-1, CB Report (EN60950)
CE Marking Machinery, RoHS, REACH
Operational
environment
Temperature
5 – 40 °C
Humidity
35 – 75%RH (Non-condensing)
Accuracy guaranteed temperature
20 – 25 °C
Temperature gradient
±10 °C/h or less
Power
Single phase AC100V – 240V
Power consumption
300W
Outer dimension (W×D×H)
RC/RT head: 3,160×1,930×1,200mm (124.4 x 76.0 x 47.2in)
T/TD/TF head: 3,160×1,930×1,150mm (124.4 x 76.0 x 45.3in)
Weight
230kg (507,1lb) (RC-S head)