New Neon yellow and pink fluorescent inks ideal for low-volume high-quality use in fashion, sportswear, swimwear and shoes

Amsterdam, November 4, 2015

Mimaki, a leading global manufacturer of wide-format inkjet printers and cutting plotters for the sign/graphics, textile/apparel and industrial markets, today announced the availability of two new fluorescent inks for its TS300P-1800 inkjet textile printers. Mimaki will be demonstrating these new inks at ITMA, the world's most established textile and garment machinery exhibition, bringing together industry leaders for a discussion on emerging trends and innovative solutions. Mimaki will be located in Hall 18, Stand C104, at the show. Mimaki's New Neon fluorescent inks, available in yellow and pink, are ideal for fashion, sportswear, swimwear and shoes and are specially made for use in the low-volume high-quality sublimation paper transfer market.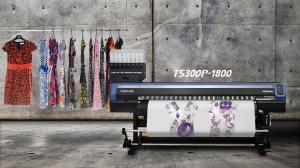 Game, set, perfect match with the TS300P-1800
Every team, whether cycling, running, badminton or football, needs to have its own shirt, with a name, number and the sponsor's logo clearly visible. Producing these relatively small, customized lots cost-effectively requires sublimation technologies, and printing the entire garment rather than applying graphics information afterwards is more profitable. With traditional print, the desired neon colours are hard to achieve and small lot production is often not cost-effective.

The TS300P-1800 was launched at Fespa, specifically designed for digital low-cost production of high-value applications. The combination with the new inks opens up a new range of possibilities for textile printers, designers and garment manufacturers: "Fluorescent colours are in high demand in the fashion and sportswear markets," says Mike Horsten, General Manager Marketing EMEA at Mimaki Europe. "With these New Neon inks, designers and garment manufacturers will be able to extend the utility of digital printing solutions to the production of high quality running clothes and other applications that are personalized or have unique designs and stand out for safety or fashion purposes. These inks will finally and for the very first time allow producing these high quality specialty products on a larger scale."

"As more textile manufacturers learn about these new inks and the quality and capability of digital printing for textiles," he adds, "we expect to see demand take off."

Off and running
The TS300P-1800 will be on display at ITMA 2015 in Hall 18, booth C104, where it will be running live demonstrations of the New Neon fluorescent inks. Horsten concludes: "We will have some very exciting samples of the New Neon inks in action for active wear, and we believe visitors to our stand will be quite impressed with what they will be able to achieve. We are looking forward to talking to brand owners, sponsors, teams and textile printers, to check the impact these New Neon inks and the Mimaki digital textile printing solutions may have across a broad spectrum of their business."

View a dedicated blogarticle on this topic.

NOTE TO EDITORS:
Please join us for an exciting and informative press conference at 11am on November 13th in room Epsilon 5. For more information or to RSVP for the press conference, please contact Maya Staels, duomedia, at maya.s@duomedia.com or mobile +32 (0)487 98 21 61.