New Mimaki CG-SRIII Series of Cutting Plotters to Be Unveiled in Europe for the First Time at FESPA 2013
Affordably priced, technologically advanced Series CG-SRIII plotters designed to achieve the highest return on investment.
Amsterdam, May 28, 2013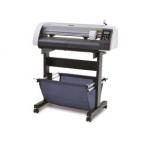 Mimaki today announced the availability in Europe of three new affordable cutting plotters. These CG-SRIII Series plotters will be unveiled for the first time in Europe at FESPA 2013, scheduled for 25-29 June in London. Visitors to Mimaki stand J5S will be among the first to experience these outstanding new products and learn how they can improve both productivity and profits.
Over the last quarter century, Mimaki has set industry standards with its CG series cutting plotters, first introduced in 1988. Since then, Mimaki has pioneered cutting plotters that bring the utmost in functionality to the sign and display graphics industry yet are affordable for businesses of any size.
"We are very excited to bring more cutting edge innovation to the European sign and display graphics industry in the form of the newly developed CG-SRIII series cutting plotters," said Mike Horsten, General Manager Marketing of Mimaki EMEA. "Their refreshed design and many new functions open up a wide range of new revenue opportunities for sign manufacturers while still keeping prices affordable – a critical factor in a very competitive marketplace. They have benefited from Mimaki's 25 years of expertise in the market, and incorporate customer feedback as well as our own market experience and R&D efforts."
Enhanced features for maximum output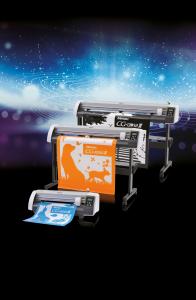 The newly developed CG-SRIII series, with speeds of 70 to 100 cm/s, are successor models to Mimaki's best-selling CG-60SR and CG-100/130SRII cutting plotters. The new CG-SRIII Series cutting plotters feature best-in-class cutting pressure of 500g, significantly increasing the range of materials that can be utilized. A doubled curve-cutting speed offers greatly improved productivity and makes complicated cutting tasks much easier.
Cutting accuracy is ensured with Continuous Crop Mark Detection. A maximum of 4 crop marks is automatically and continuously detected to enable precise contour cutting. In addition, the new Segment Compensation feature detects intermediate crop marks and enables accurate contour cutting of long-length prints.
To further improve productivity and ensure seamless unattended operation, the new CG-SRIII Series plotters offer remote monitoring. Notification of events, such as completion of cutting or an error state, are sent to a preset e-mail address to ensure maximum throughput and uptime. Event Notifications also include the availability of firmware updates for the plotters, which can be performed quickly and easily by the user, ensuring the plotter always has the latest version of firmware.
"In this landmark year for Mimaki and its customers, the 25th anniversary of the CG series, we are not resting on our laurels," added Horsten. "We are looking forward to the reaction of visitors to FESPA 2013 to these exciting and innovative new products which will deliver reliable quality and consistent performance for an excellent return on investment – always a goal in Mimaki product development."