Mimaki Employs Imagination to Bring Innovation to InPrint 2014
Unique, exciting industrial printing applications on display
Amsterdam, March 13, 2014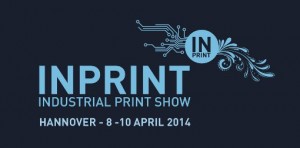 Mimaki today announced that it will be exhibiting at InPrint, being held in conjunction with Hannover Messe 2014 in Germany. The world's first trade exhibition exclusively dedicated to print technology for industrial manufacturing will be held from 8 through 10 April. Mimaki will be located in Stand H16 at the show.
"With the growing quality and capabilities of digital textile printing solutions available in the marketplace today," said Mike Horsten, Marketing Manager for Mimaki Europe, "digital printing on a wide range of fabrics is gaining broad acceptance across a number of markets including fashion, home décor and signs and display graphics. Mimaki has long played a leadership role in delivery of high quality digital textile printing solutions for custom fabrics, test marketing and short runs of printed textiles. In addition, we will be featuring some of our flatbed UV-curable wide format printers that produce a broad array of on-demand printed industrial applications. We are thrilled to be part of this first-ever trade exhibition dedicated to print technology for industrial manufacturing and excited about the solutions we will be able to demonstrate to attendees."
Featured Textile Solutions
The highlight of Mimaki's stand will be its highly functional textile printing solutions, including the TS500-1800, the world's fastest dye sublimation printer, capable of printing at 150 square meters per hour on transfer paper. It produces brilliant colour for apparel and soft signage, both of which are seeing increased demand for short run lengths that are ideal for digital on-demand printing. Key features that set this dye sublimation printer apart in the marketplace include:
Unmatched printing speed for sublimation paper at 150m2/h in high-speed mode. The TS500-1800 uses newly developed printheads that achieve a maximum speed in four- or six-colour mode. The printer includes six printheads, with three staggered.
Mist removal filter – The mist removal filter prevents problems caused by ink mists and enhances the stability of print operations by suctioning the mist inside the printer.
Mimaki Degassing Module – The Mimaki degassing module (MDM-20) eliminates the gasses or bubbles that can occur in inks during the printing process, decreasing the likelihood of nozzle blockage and improving the accuracy of ink dot placement. In addition, this module enables the printer to use undegassed bottled inks instead of conventional degassed ink packs, thus reducing ink costs.
Sb300 dye sublimation ink – Optimized for dye sublimation printing, the Sb300 ink offers an affordable price, dries quickly and produces brilliant colours. Sb300 ink is available in six colours (Bk,Bl,M,Y,Lbl,Lm).
Auto Media Feeder (AMF) – Mimaki's unique Auto Media Feeder provides stable feeding and take-up of print media, eliminating much of the need for operator intervention during printing
Larger Roll Media Size – The TS500-1800 can accept rolls of media up to 60kg and 300mm in diameter, further improving operator productivity by eliminating the need for frequent media changes. Larger orders can be continuously printed without interruption, or batches of smaller orders using the same media can be easily handled.
"We believe that the TS500-1800 will speed the transition to digital printing in the worlds of soft signage and apparel that is already well underway," Horsten added. "In addition, our dedication to eco-friendly printing is also demonstrated with this textile printer, which uses less ink and water and results in less waste than other printing methods."
Mimaki will also be showing the Klieverik GTC101/2000, a partner product for transferring vibrant TS500-1800 prints from sublimation paper to fabric.
UV Printing on Rigid Media
"Printing direct to rigid substrates is another huge industrial printing opportunity, for everything from point of purchase materials to promotional products," Horsten said. "Our portfolio includes printers that can produce an extremely broad range of applications with exceptional quality and productivity."
On Display at InPrint:
UJF-6042, this UV flatbed printer with LED curing and multiple ink options prints directly on substrates up to 150mm thick with a precise and vivid image quality that is normally only found in more costly printers. It support 6 colours and white ink. Together with its ability to print up to 1800×1800 dpi and its variable dot size, the UJF-6042 is engineered to deliver extreme accuracy of the ink drop placement on the substrate. For photo applications, its A2 size means operators can simultaneously print two facing pages of an A2-size photo album. For smaller items, it is easy to create an efficient print layout to minimize waste of expensive substrates and decrease overall production time.
JFX500-2131, this UV printer incorporates brand-new head technology and advanced LED curing.  Its advanced head movement control produces an exceptionally high resolution image quality that can produce legible fonts as small as 2 points.  With print speeds of up to 60 square meters per hour with CMYK and 45 square meters per hour with white, it also delivers the ultimate in productivity. Multiple ink options ensure the ability to produce a wide range of applications, including both rigid and flexible inks.