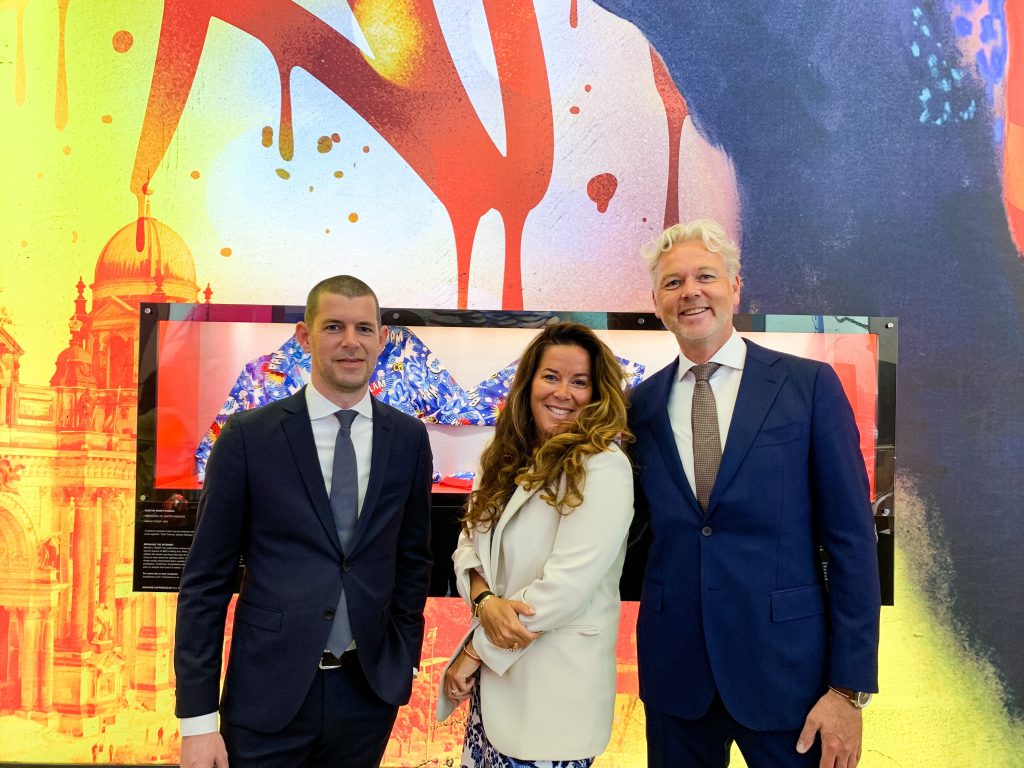 Mimaki Europe, the leading manufacturer of inkjet printing and cutting technologies, has today unveiled an increase in market share across the different sectors it operates in, confirming the company's impressive and continued leadership position. Mimaki's management team attribute this success to the company's commitment to technology innovations, putting their customers at the forefront, and its ability to anticipate and adapt to market trends.
Mimaki's customer base spans four key sectors – Sign Graphics, Industrial, Textiles, and Full Colour 3D Printing. The numbers revealed that Mimaki currently holds the second largest market share in the Sign Graphics sector with sales exceeding results from 2019. The renowned flexibility, quality and reliability of Mimaki's extensive and innovative technology portfolio has long been acknowledged as the reasons so many sign-makers invest in Mimaki products, even during the recent challenging economic climates.
Arjen Evertse, General Manager Sales EMEA, explains, "We're extremely pleased to hold such a high position in this field, and we must also credit the ingenuity and creativity of our customers with this success. They push the boundaries of what is achievable with our technology and always challenge us to deliver more and more, a challenge we happily accept. Of course, it goes without saying that we always strive to be number one! There was a requirement for a Mimaki solution that delivered high productivity in this sector, and we have now answered this need with the launch of the 330 Series, specifically the CJV330-160 and JV330-160, which offer high-end yet cost effective Sign Graphics application printing. With these new machines now available we are confident that 2022 will be an even stronger year for Mimaki."
Making their international tradeshow debut at FESPA 2022, the print-only JV330-160 and the integrated printer and cutter CJV330-160 deliver higher productivity while setting new standards in print quality. With workflow efficiency at the top of Mimaki's and its customers' agenda, in-built cleaning mechanisms and monitoring features ensure seamless production and allow for longer running times. Both models also feature a newly designed unwinding system that allows three rolls of media to be loaded simultaneously, greatly reducing the time and manpower required to change print media. Another standard feature is an "XY slitter" – a highly precise cutting technology, which provides in-line X-axis and Y-axis sheet-fed cutting. This eliminates the unwinding and rough cutting from the workflow, helping printers to significantly speed up and streamline the post-process, with less interference needed.
For the Industrial and Textiles markets, Mimaki has maintained their position as market leaders in 2021. The Industrial portfolio consists of Mimaki's UV flatbed printers and, although a significant percentage of this install base are used to produce applications associated with tourism and merchandising, sales in 2021 were very similar to 2019. This is due to the fact that a growing number of industrial applications are being produced with Mimaki's UJF and JFX series. While the tourism and merchandising sectors are expected to recover from downturn that resulted from the pandemic, Mimaki has been focused on increasing workflow optimisation and automation to support this growing demand for industrial and manufacturing applications. The latest additions to this product line include the UJF-MkII e Series and UJF-7151 plusII. These high-speed, high-quality direct-to-object UV LED inkjet printers have been designed with performance and creativity in mind, while also fitting seamlessly into an automated production environment.
The release of TS100-1600 entry-level textile printer greatly contributed to Mimaki's substantial growth in the Textile market. The trend towards on-demand, bespoke textiles for fashion and interiors has led to many companies investing in the TS100-1600 as their first digital printing solution. The new TS330-1600 will enable textile printing companies to take their productivity to the next level, with many new and innovative features to improve stability and add-ons for exceptional efficiency, such as a mini jumbo roll unit that can be added to load long transfer paper and further reduce running costs.
3D Printing is a newer market for Mimaki, but the company is making notable strides forward with their ground-breaking solutions for full colour, highly accurate 3D model making. The launch of its brand-new pure clear material, MH-110PCL, designed for Mimaki's flagship UV curable, full colour 3D printer, the 3DUJ-553, is the latest example of Mimaki's commitment to furthering adoption of this pioneering technology.
"2021 has been an exceptional year for Mimaki and we're very proud to have been able and support our customers with their new and existing Mimaki solutions, as they continue to succeed across a diverse range of growing markets. With numerous new additions to our portfolio, many of which are on show this week at FESPA, we aim to bring even further benefits and new opportunities to the markets we serve, and as such, we are extremely excited to see what the rest of 2022 will bring," concluded Arjen Evertse.