Cue the celebration spotlight on Mimaki Europe at FESPA Digital 2014
Theme of "Together We Create" expresses Mimaki Europe approach to the sign and display graphics business
Amsterdam, April 23, 2014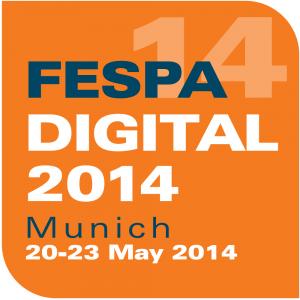 Mimaki today provides additional details about its presence at FESPA Digital 2014, scheduled for 20-23 May in Munich, Germany. Mimaki Europe will be located in Stand A1-110 at the show. With a theme of "Together We Create," Mimaki Europe will be focused on using imagination to create a more inspirational, exciting and profitable business for customers, distributors and partners.
Fun. Festive. FESPA!
"We are very excited about our FESPA Digital 2014 plans," said Mike Horsten, General Manager Marketing EMEA for Mimaki Europe. "Not in the least as it marks the 10th Anniversary of the founding of Mimaki Europe, and we plan to celebrate that achievement in a big way."
The Digital Hub
New at FESPA Digital 2014 this year are educational hubs that offer a blend of presentations, debates, networking and demonstrations. "We are extremely pleased to partner with FESPA Digital 2014 in presenting the Digital Hub," said Horsten. "This special area will be a lot of fun. We have sales and technical people on site all the time to illustrate the possibilities with the Mimaki Europe equipment. There will be demonstrations round the clock."
The Digital Hub will offer presentations of market research, market entry tips, and specific discussions focusing on:
Business skills (sales and marketing, recruitment, finance);
Applications such as:

Interiors (glass, wood, metal, wallpaper);
In-store (personalisation, rapid turnaround);

Efficiency (across all aspects from print processes to logistics); and
Technical (design, colour profiling, finishing).
"Visitors are also invited to experience demonstrations of key digital print technologies and connect with speakers and their peers in the VIP networking area. The Digital Hub includes everything visitors need to share ideas and strengthen relationships with customers, prospects and other like-minded individuals."
Young Designers Take Note
Mimaki Europe is also sponsoring two awards at the show, the Home Furnishings Award and the Young Designer Award. 
"We are especially enthusiastic about the Young Designer Award," Horsten added. "The Young Designer Award recipient will receive a 6-month internship at Mimaki Europe. They will be able to use this experience to put theory into practice and learn our products inside out. Last year we had an in-booth aquarium for on-site practice, but this year we want to take it one step further. At Mimaki Europe, we believe this type of investment in youth that encourages more talent and skills to enter the industry is extremely important."
Robust Portfolio Inspires Innovation
Mimaki Europe will be featuring key products on the booth, so visitors can get first-hand experience and information on the realisations. "We truly understand that business success in the sign and display graphics business is so much more than simply purchasing equipment," Horsten explained. "That's why we devote a significant amount of resources to ensuring that we can offer a complete solution. Things like the Digital Hub are part of that, but the core still has to be printing equipment that is innovative, reliable and enables new applications and revenue streams. We believe visitors to our stand will find everything they need be inspired with new ideas they can take home from the show."
On display at FESPA Digital 2014 will be: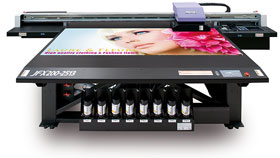 The JFX200-2513, a compact UV printer that can easily fit into facilities of almost any size and an affordable price to match. Its variable dot function ensures less granular and higher quality prints by jetting three ink dot sizes at once, and it features white ink for brilliant images, compelling backlits, and other items printed on transparent materials.  It includes two different ink types that support a wide range of materials and applications:
LH-100, a hard UV cure ink with high rub and chemical resistance with excellent color fidelity;
LUS-150, a affordable UV cure ink with suppleness that extends to 150%.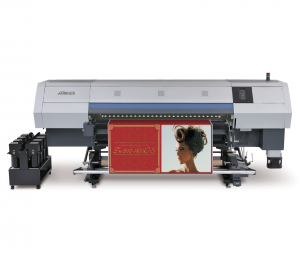 The Tx500-1800DS direct sublimation printer is ideal for flags, sign, display, textile and soft signage segments. It features a new Sb300 ink that is more affordable than conventional ink, as well as increased print speed for polyester fabrics.
Mimaki Europe experts will also be on hand to speak with visitors about their goals and objectives, and to help them match these needs to the most appropriate Mimaki Europe solutions so that "Together We Create" new business opportunities, improved operations, and the highest quality solutions in the marketplace.