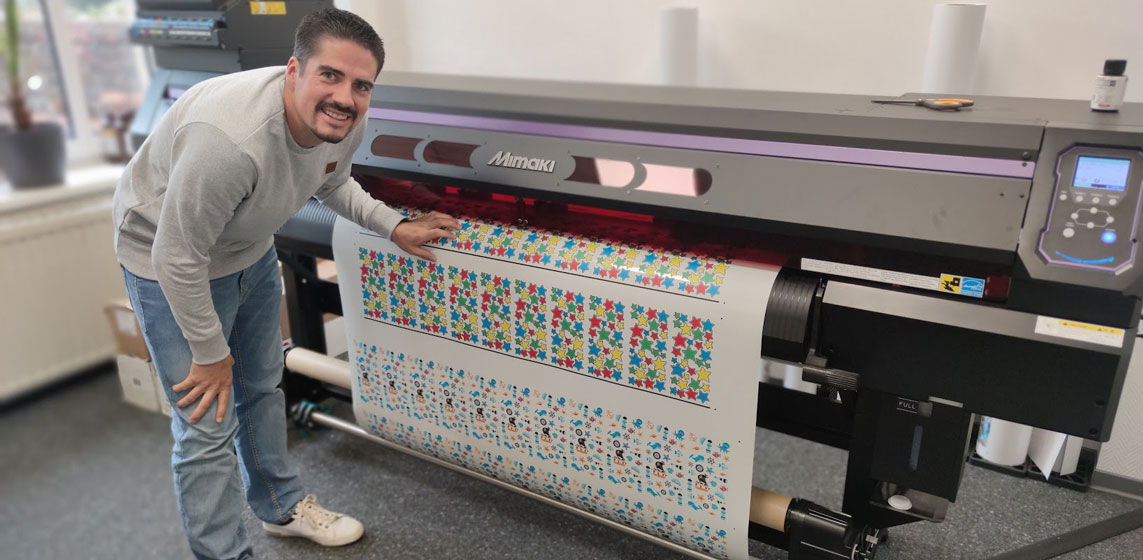 Designs of unicorns and monsters are currently among the bestsellers produced by the company fahrradaufkleber.shop – made possible through Mimaki's technology.
For over ten years, fahrradaufkleber.shop has allowed imagination to run wild with individually designed outdoor stickers for bicycles. On site at their facility in Radeberg, Germany, they also operate a local advertising technology shop, offering various advertising technology products, such as car and motorbike stickers.
Previously, the company used a Summa DC5SX thermal printer for the printing. "The printing process we utilise, uses simple resources to create a finished sticker, which is printed and cut without needing to be laminated at the end", summarises Franco Loreck, the owner of fahrradaufkleber.shop. However, as the production of colour ribbons was discontinued, an alternative had to be found. Through YouTube videos and research, Loreck discovered Mimaki dealer die12Monate, who advised him on the technologies available. When he tested the equipment for himself, a major requirement was the quality of the printed small lettering for the name labels. The UCJV300-160 proved to be particularly impressive during this process.
As Mimaki, global manufacturer of large format inkjet printers and cutting plotters, offers both UV and solvent printing solutions, Loreck had to make a choice. He ultimately decided on the UCJV300-160 printer with a white and clear coating in order to save on the laminating process. "The biggest advantage of our old DC5SX was being able to print colour gradients. The print quality was very good for our stickers, which are often small. This was also a decisive factor when we chose the UCJV300-160 printer."
Tactile effect
As bicycle stickers are generally printed on a transparent film, printing in white is absolutely vital, so that the print is visible on all surfaces. But white lettering on transparent film is also required for name stickers and other designs beyond bicycle stickers.
"We subsequently upgraded our stickers with a clear coating to produce thin, high-quality stickers, which can be used immediately". The printer's cutting function was originally a condition for the purchase to achieve the finished stickers. Loreck adds: "However, in practice we don't use it because our plotters can cut everything more efficiently and then the printer has more capacity for its actual purpose. But the direct cutting function is certainly important for single prints."
The UCJV300-160 is equipped with CMYK, white and a clear coating. In principle, white is vital for transparent or coloured media so that the colours don't look faded. Franco Loreck uses the three-layer function: white – colour – clear coating. The clear coating is applied on the surface at the end, either over the entire print or only partially to achieve a textured effect. The clear coating can be applied in a matte or gloss version, but the company tends to use more matte than gloss. "In our advertising technology shop the printer is also often used to print on materials other than normal transparent film", says Franco Loreck. A material can be found for almost every application; banner films, reflective films, paper and also canvas are all able to be printed on.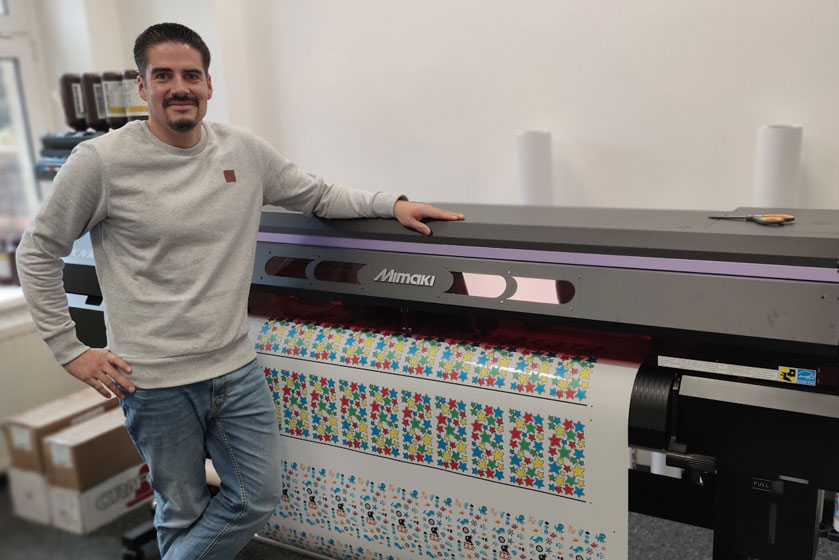 Franco Loreck, owner of fahrradaufkleber.shop, has been operating Mimaki's printer for over two years.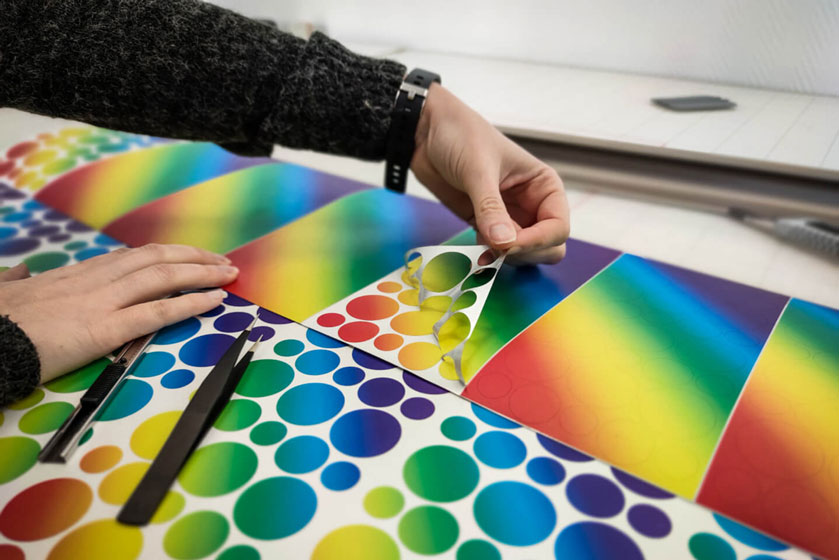 Behind the scenes of sticker production process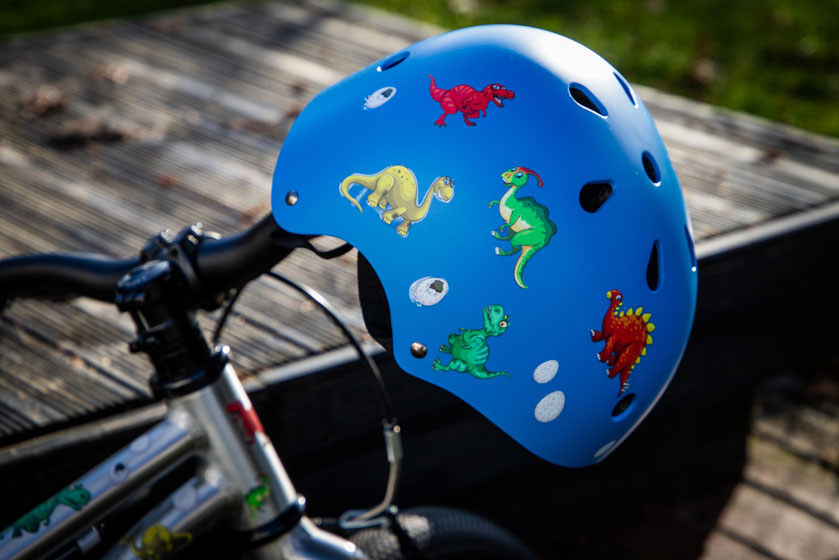 Dinosaur stickers add a touch of fun to a rider's helmet.
The Mimaki UCJV300-160 printer equipped with CMYK, white and a clear coating
A few refinements have to be undertaken to achieve an optimal print result. "Each film has a few special characteristics. From our perspective, the printer is easy to operate and the settings don't have to be continually readjusted. As we also carry out smaller jobs and don't just print those with several meters of substrate, it's extremely important to ensure that the material is fed in correctly." Depending on the material, one has to proceed intuitively. But it's also possible to print on a single sheet, depending on the material. "We insert our rolls into the printer and can start immediately," Loreck elaborates. "Of course, there shouldn't be any dirt on the material and the edges must be flat. However, I think that goes without saying if you want to maintain the condition and longevity of such a technology." For over two years fahrradaufkleber.shop has been relying Mimaki technology, delighted that they can now print as required, that the process is simple and the wait is short – and particularly that the printer has been operating without any problems since day one.
UCJV300 series
The UCJV300 series is a versatile inkjet printer series, which combines the printing and cutting function with UV-curing ink. The model has a new four- or five-layer printing mode. The new function has extended the printer's field of use and enables high-quality, creative work to be achieved. The print speed is up to 25.8 square meters per hour, the maximum resolution is 1,200 dpi. Additional advantages include the environmentally-friendly LUS-170 UV ink and the LUS-200 flexible UV ink with 200 percent expansibility.