Newly launched UJV55-320 printer generates strong show sales
Amsterdam, March 29, 2016
Mimaki looks back at a successful FESPA. In the first two days of the show, the company reports sales of 30 of its 3.2m wide UJV55-320 printers, launched at the show. In addition, a 180m2/h TS500P-3200 sublimation transfer printer was sold within the first 15 minutes of the show doors opening.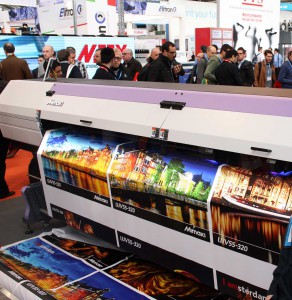 Mike Horsten, General Manager Marketing EMEA at Mimaki Europe comments, "We knew the new UJV55-320 press had a lot to offer to the market and would generate strong interest, but we had no idea it would generate quite that much! It is clear that its size, features and price point offer a perfect combination for both existing and new sign and display graphics businesses. We can truly say that this was our best ever FESPA show from both a sales and lead generation perspective, validating that we are on the right track with our offerings for this market segment."
The 110m2/h UJV55-320 features a unique backlit preview lighting system that allows operators to more closely examine output as it is being printed. It is available with four or seven newly developed LUS-120 high performance UV curable inks including white. It delivers the versatility of twin-roll simultaneous printing together with high quality super wide output for volume production of banners, retail and exhibition signage, window graphics and other similar applications.
Horsten adds, "The UJV55-320 builds on Mimaki's significant heritage in high quality graphics printing to offer an ideal solution for production of the large format backlit graphics that are frequently found in airports and other public places. It complements existing technologies within the Mimaki product line and delivers an affordable solution for companies looking to enter this growing and profitable market."
The roll-to-roll TS500P-3200 sublimation inkjet printer was launched last February. This dedicated transfer paper printer for the textile industry has been tailored to meet production needs for home furnishings and indoor soft signage. Horsten comments, "This system is designed to help operations take advantage of the growing trend for on-demand textile printing, from the fashion and sportswear markets to the interior décor and home furnishing sectors. The TS500P-3200 addresses a growing production need for digital solutions in this market, which is an important focus for Mimaki."
Generating almost as much on-stand interest as the UJV55-320 were the car wrap demonstrations on an Audi A1 Sportback,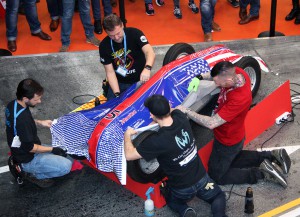 as part of the FESPA European Wrap Masters competition, a prelude to competing in the World Wrap Masters Final. The wrap was printed on Mimaki solvent printers in collaboration with media supplier Avery Dennison. During the competition, participants also wrapped more unusual objects, such as a motorcycle helmet, to show the broad range of applications these high quality wide format printers can produce. Previous World Wrap Masters competitions have seen competitors wrapping items as diverse as space rockets, designer kitchenware, mannequins and bathroom furniture. "The competition certainly drew a crowd, and there was no better way to demonstrate some of the more exciting projects that can be produced quickly, cost effectively and at an unrivalled quality using Mimaki solutions," Horsten shares.
Horsten concludes: "Our 350m2 booth attracted many visitors who were eager to learn more about our printers and cutting solutions and to discover how Mimaki Europe can support them in both existing and emerging business opportunities. FESPA always attracts great attendees from around the world who are passionate about wide format digital printing and are keen to discover the latest industry innovations. The buzz in this sector of the graphic arts market continues unabated as more operations dip their toes in this growth market or expand their capabilities to continue on a growth path. The UJV55-320 has found a sweet spot in the hearts and minds of sign & display graphics professionals, and we look forward to helping more operations extend their wide format portfolio of services with this and other well-known Mimaki solutions."