Accolades for Mimaki UJV55-320, Mimaki UJF-7151 plus and Mimaki TX300P-1800
Düsseldorf, Germany – June 2, 2016
Mimaki has secured a hat-trick of European Digital Press Association (EDP) Awards, presented yesterday at drupa 2016.
The Mimaki UJV55-320 has been named Best Wide Format Roll-to-Roll Printer up to 320 cm; the Mimaki UJF-7151 plus, the Best Special Object Printer; and the Mimaki TX300P the Best Textile Printer Roll-to-Roll up to 100 sqm/h. The awards were accepted by Mike Horsten, General Manager Marketing of Mimaki EMEA, at a special ceremony held during the show.
Creative recognition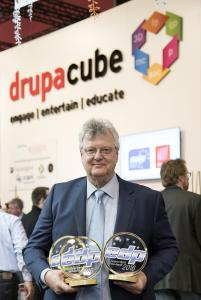 "To achieve one EDP award is an honour – three is a great recognition of the hard work and creativity of our research and development teams in not only bringing market leading solutions to fruition but also in identifying emerging trends and how we can help customers make the most of the opportunities they present," says Horsten. "The UJV55-320 is the perfect complement to existing sign and display graphics production platforms as well as an affordable market entry for operations looking for new sign revenue streams. The Mimaki UJF-7151 plus addresses a growing demand for digital, on-demand and plateless inkjet printing because of its ability to quickly provide high-mix and low-volume printing.
Mike Horsten adds, "With the Mimaki TX300P-1800, we were mindful of the shift in textile production from both analogue to digital and from centralised to distributed production. We envision a day not too far in the future when consumers will be able to download or create their own patterns rather than being limited to commercially available designs. The TX300P-1800 is ideal for this new distributed model of textile printing."


Affordable wide-format
The Mimaki UJV55-320 is an affordable roll-fed wide-format printer that delivers speeds of up to 110 m2/h and print resolutions of up to 1200 dpi, depending on the substrates. It uses UV-curable ink, cured with a low-energy LED light array. This results in sign and display graphics that exit the printer dry and are immediately ready for further processing, significantly reducing production cycle times. In addition, UV-curable inks emit no volatile organic compounds (VOCs), minimising the environmental footprint.
The UJV55-320 also features:
Cyan, magenta, yellow, black, white, light cyan and light magenta inks that can be configured in a 4-colour mode or 6-colour set plus white.
White ink allows printing high quality, vibrant images on transparent and coloured media. The three-layer colour-white-colour printing is especially suitable for production of applications such as window graphics and backlit signs. Mimaki Circulation Technology (MCT) maintains white ink print quality and reduces ink waste.
Built-in LED lights that make it more efficient for operators to check printing quality of backlit signage, simulating their installed look and reducing waste and rework.
Automatic detection of nozzle faults and cleaning and/or nozzle substitution for high quality uninterrupted printing.
Twin roll capability, enabling printing on two separate rolls of the same media for simultaneous printing of two different jobs.
RasterLink 6 software with a patented dithering technique and Mimaki Advanced Pass System (MAPS) for higher quality and reduced banding, even at high print speeds and during longer print runs.
Industrial Small Format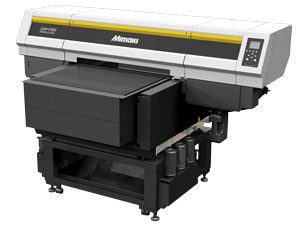 The UJF-7151 plus industrial small format UV Inkjet flatbed printer ensures high quality printing and top level productivity with ultra-accurate ink droplet placement. It has a maximum printable size of 710 x 510 mm (28 x 20in). This best-in-class digital on-demand industrial small format printing solution for the screen printing industry improves accuracy, consistency and reliability by modifying the mechanical structure of the print table. Fine lines, edges and small texts are crystal clear. It also enables double-layer printing and colour printing on a white base layer.
Key features include:
Mechanical structure for high-precision printing.
Superior print-image quality control technology.
Mimaki Advanced Pass System (MAPS) that reduces banding and uneven colour printing with blurred boundaries.
Mimaki Fine Diffusion (MFD) that reduces noise due to dithering through hybrid processing of patterns.
Maximum 3.3 m2/h productivity delivered via six staggered print heads increases the printing speed and achieves top-level productivity.
Uninterrupted printing with high-stability as a result of an ink-circulating mechanism within the head.
Automatic detection and recovery of clogged nuzzles by cleaning them, thus reducing waste. The Nozzle Recovery System ensures that good nozzles are used as substitutes when clogged nozzles are not recovered after cleaning.
Reliable operating support package (NRS) that ensures maximum uptime.

Addressing small lots in textiles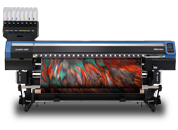 The Mimaki TX300P-1800 is an innovative 1.8 meter roll-to-roll direct-to-textile inkjet printer designed to meet the market demand for smaller lot sizes, faster delivery times and the ability to quickly produce samples. Created specifically for direct-to-textile printing, the 8-colour inkjet printer features a new print head that ejects ink droplets at high speed to ensure accurate ink droplet placement with a high head gap. This makes the printer ideal for printing high quality images on all types of fabrics, including thicker and textured materials.
Other features include:
Print resolution of up to 1080 dpi with drop sizes ranging from 6 to 24 pl.
Print speeds more than twice as fast as that of a conventional printer at up to 68 m2/hour.
Stable textile transport that maintains optimum tension, based on Mimaki's unique and reliable techniques developed over years of textile inkjet printer research and development.
A choice of sublimation dye, disperse dye, pigment, reactive dye, and acid dye inks to meet a wide range of application needs.
Uninterrupted printing with automatic detection and cleaning of clogged nozzles, thanks to the Nozzle Recovery System.
A choice of powerful digital front ends, including standard Mimaki RasterLink6 or the TxLink3 Lite.
Production of large, seamless patterns from a single image, including repeat and mirror patterns.
Simple creation of multi-colour ICC profiles using Mimaki's unique profile Wizard.