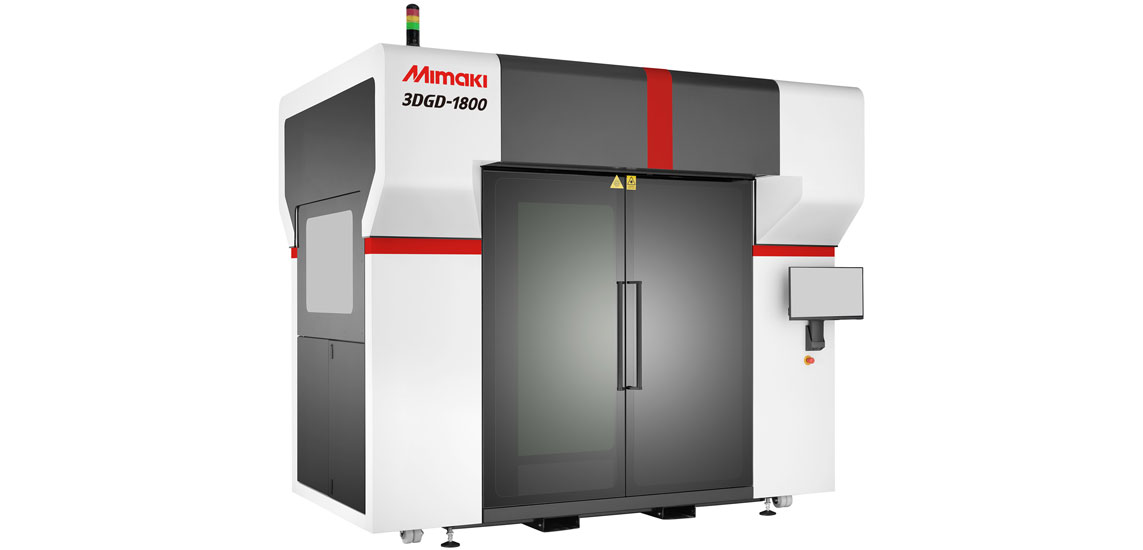 New Mimaki 3DGD-1800 3D printer boasts ground-breaking production speeds and transforms production of large-sized objects, opening up a wide range of new possible applications across industries from sign and display to manufacturing.
Mimaki Europe, a leading manufacturer of inkjet printers and cutting systems, today announces the launch of the new Mimaki 3DGD-1800 3D printer, facilitating large-scale production up to three times faster than with conventional Fused Filament Fabrication (FFF) type 3D printers. The Mimaki 3DGD-1800 3D printer connects the company's 2D printing expertise and 3D technology innovations, providing customers with a cost-effective, total solution for 3D sign and display applications.
Capable of producing objects up to 1.8 metres tall in just seven hours – with its assembly-based design allowing for the creation of even larger designs – the innovative 3D printing system boasts a number of clever time- and cost- saving features, including dual-head configuration to enable the simultaneous output of two structures. The Mimaki 3DGD-1800 also facilitates the production of support-free hollowed structures, further streamlining production whilst allowing for increased portability and the possible addition of interior illuminations. The technology will open up a diverse range of potential applications, from signage, events and creative art through to interior design. Customers can utilise Mimaki's extensive portfolio of 2D print solutions to cost-effectively decorate these applications, opening doors to a range of new products that combine creativity and innovation with Mimaki's tried and tested vibrant, high-quality results.
"Part of what makes our approach unique here at Mimaki is our dedication to being a Total Solutions Provider, and as such we have ensured that even beyond the 3D printing stage, our Mimaki inkjet printers can then be utilised to add colour and décor, making created objects even more impressive and immensely versatile," comments Bert Benckhuysen, Senior Product Manager at Mimaki Europe. "With our unique vision, wealth of experience from across the print industry and unwavering commitment to innovation, we intend to lead the sign graphics industry in both two- and three-dimensional signages – and the introduction of the new Mimaki 3DGD-1800 is a fantastic step forward in achieving this goal."
Commercially available from April 1, 2020, the new Mimaki 3DGD-1800 is set to revolutionise the way in which large-sized objects are created, enabling a switch from costly and time-consuming conventional handcrafting methods which require significant expertise, to effortless, high-speed production utilising 3D data. Whereas large objects have traditionally been produced by manually sculpting foam materials, Mimaki's new 3D printing system transforms this process right through from concept to manufacture – meaning that designs can be visualised as a finished product just based on the 3D data, and then produced in various sizes from a single data set. Contrary to other 3D printing methods involving hot-melt lamination, the 3DGD-1800 employs Gel Dispensing Printing technology, extruding gel-type UV curable resin lineally and utilising LED UV light to instantly cure the resin, enabling lamination speeds of up to 350mm in height per hour.
The 3DGD-1800 3D printer is expected to present sign makers with new opportunities across a number of diverse sectors, with the potential to easily create life-sized displays, event decorations, movie props, large product mock-ups and more – as well as quickly and efficiently producing industrial production parts such as moulds for vacuum forming, helping manufacturers to reduce their lead times.
"We are very excited to be able to bring such a transformative product to market," continues Benckhuysen. "With unprecedented modelling speeds and the possibility to create enormous objects even beyond the sizeable formation area, the 3DGD-1800 represents a real transformation in large-sized production. Combined with the superior quality that we have become known for here at Mimaki, the potential impact of this new 3D printer is tremendous – particularly for the sign and display market but also far beyond that. The opportunities are boundless."