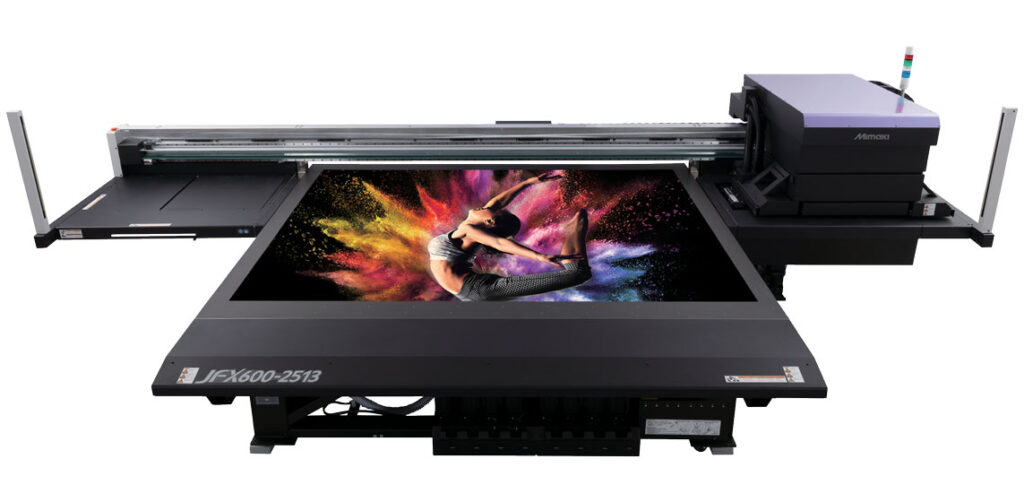 By Mustafa Okanovic, Senior Product Specialist, Mimaki Europe
In today's competitive market, staying ahead of the curve is crucial for businesses seeking success. Here at Mimaki we are committed to create a more efficient and advanced industrial printing sector. With that in mind, we developed our latest large format LED-UV flatbed printer, the JFX600-2513, which stands out as a game-changer in this field. This cutting-edge printer combines precision, speed, and versatility, offering an array of state-of-the-art features that make it an unbeatable choice for professionals in the printing industry.
In this blog we will explore the potential that the JFX600-2513 has to transform print shops, discussing some of its vital functions, and delving into how it can benefit our customers, positioning them for success.
1. Versatility
Adaptability is key, and the JFX600-2513 ensures you're ready to take on any project that comes your way. Glass, wood, metal, from flat surfaces to textured substrates. You name it, this machine can print on it. It's this versatility that makes Mimaki's 7th generation LED-UV technology so beneficial for customers. Users are able to pursue creativity without limitations on a printing bed size of 2.5 x 1.3 meters, allowing for both large and small prints.
Moreover, various types of ink can be used with the JFX600-2513, including rigid and flexible, depending on the type of application you're going for and the material being printed on. This means that materials such as glass, can have the right ink to best match with the surface texture and still provide the upmost quality. These inks can be printed with up to 17 layers, with a thickness of up to 0.5mm to allow for 2.5D textured prints, with differing effects, such as embossed and debossed.
2. Speed
Time is money, and we at Mimaki understand that. Developing new technologies is largely about improving efficiencies and productivity, and the JFX600-2513 does just that. Boasting higher speeds, over three times faster than its predecessor, the machine can reach printing speeds of up to 200m²/h depending on the job at hand. This is achieved with the use of 16 printheads – more than in any of our previous UV flatbed printers – ensuring quick turnaround times. Now printers can painlessly meet deadlines, satisfy customer demands, and maximize their overall efficiency.
3. Functionality
User-friendliness and functionality are paramount with the JFX600-2513, pre-equipped with the intuitive Mimaki Printer Controller software. This combines machine setup, printer operation and job control via a large user-friendly touch panel. From this display dashboard, customers can monitor and control settings remotely, switch effortlessly between jobs, and even be provided with important machine alerts, such as when the ink is running low. The automated maintenance features and advanced ink circulation system minimize downtime and simplify routine tasks, saving valuable time and effort.
Additionally, the interface streamlines operations, making it easy for beginners and seasoned professionals to have seamless control over job management. The printer also comes IoT ready, allowing for smooth integration into large-scale production lines.
4. Precision & Quality
The 16 printheads previously mentioned don't only give the machine a hefty speed boost, but they have also improved the quality of the final print. They enable much more precise printing, with a 4-colour configuration, or 8-colour configuration for higher definition finishing. These printheads also go hand in hand with our Mimaki Advanced Pass System (MAPS4) technology, which uses algorithms to calculate the best way to inject the ink drops on the varied materials. The stunning output helps businesses to impress with a competitive edge in the market.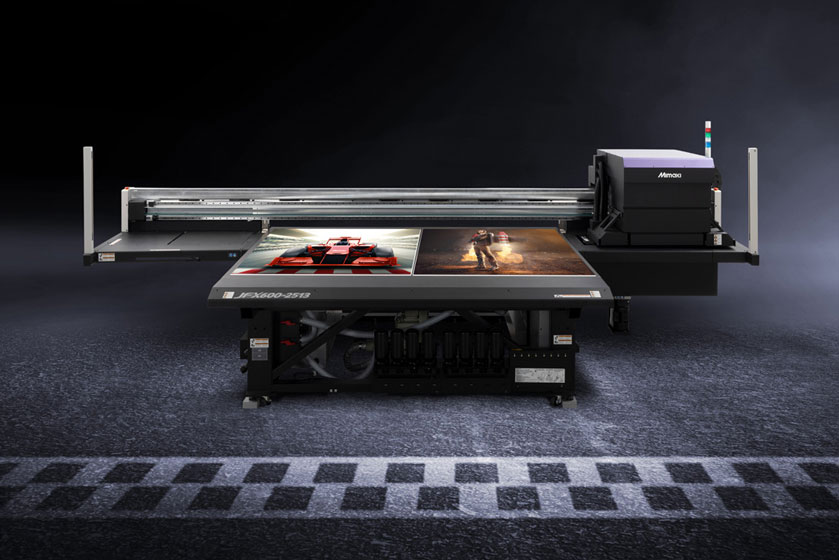 The Mimaki JFX600-2513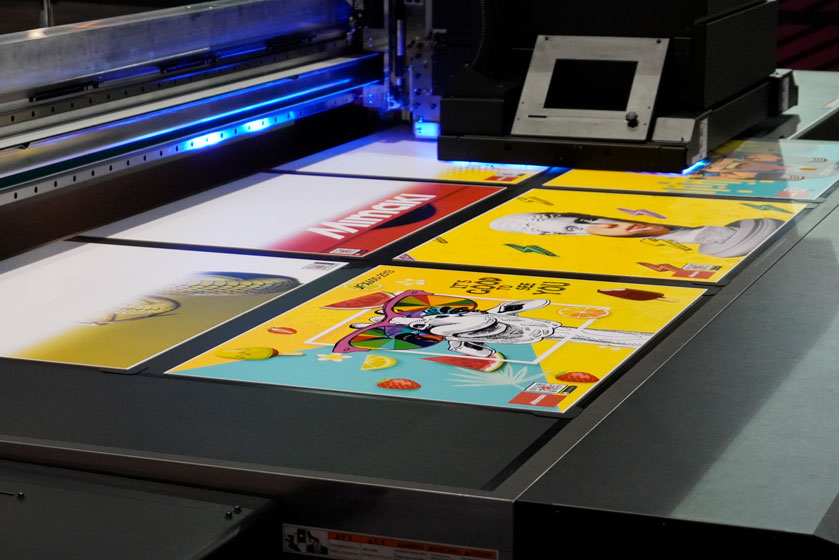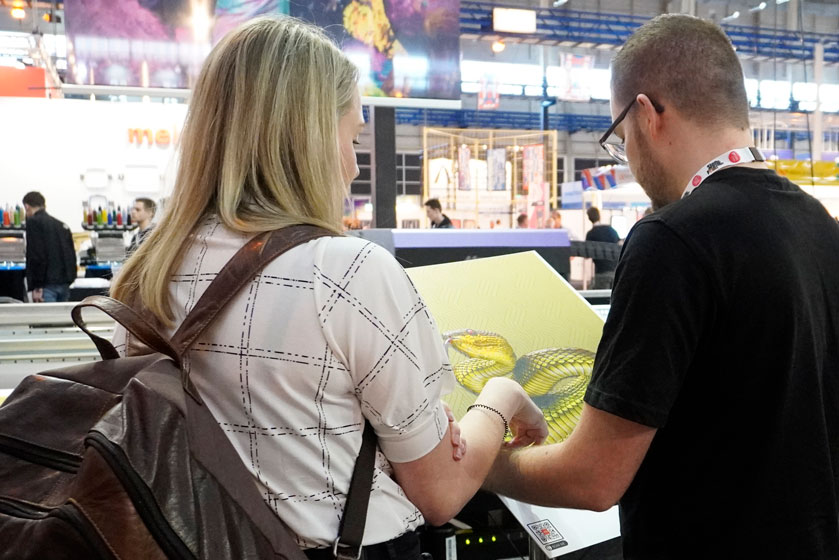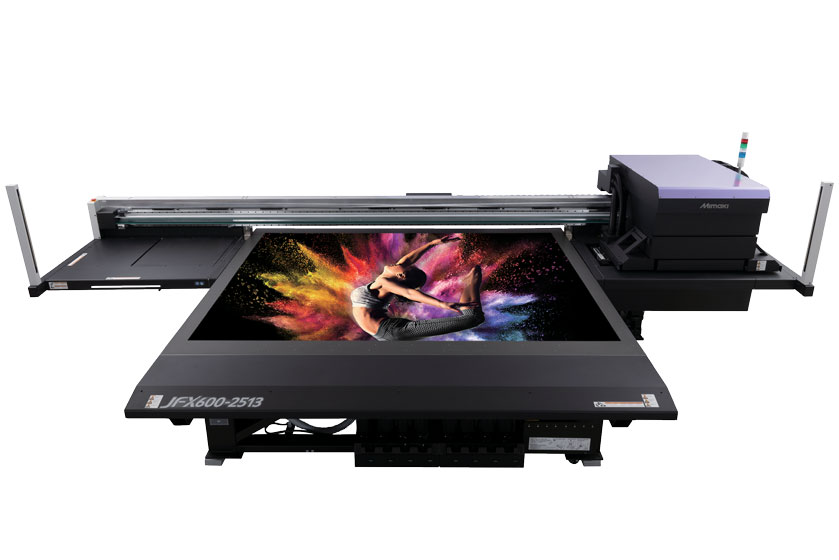 5. Sustainability
Mimaki's commitment to environmental sustainability shines through with the JFX600-2513, as it utilizes UV-LED technology. This technology helps printers reduce energy consumption and minimise environmental impact, allowing users to reap the benefits of a greener printing solution without compromising on performance.
6. Potential
Many Mimaki customers have already discovered the unique applications and lucrative opportunities that our technology presents.
Starglas, a Mimaki customer from Germany, have used our UV technology to master the niche of printing digitally on all things glass. In fact, 90% of the detailed and intricate products they create are completely unique. With the JFX600-2513 having an effortless and one-touch workflow, printers handling bespoke projects like this can switch between jobs and design with ease. With the additional speed and quality afforded, it's clear to see how this will increase efficiencies all round, especially for companies looking to run larger scale operations.
For customers like D-POS, who create indoor and outdoor decorations using glass, metals, woods, plastics and more, the JFX600-2513 brings significant benefits. There is no limit to the potential of their creative applications, from decorative kitchen splashguards, to detailed finishes for outdoor wooden panelling. It's no surprise that the JFX600-2513 is a great option for any company looking to further enhance their offerings without having to sacrifice quality.
Whether you're aiming for demanding industrial prints, unique personalization and decorations, or artistic creations, it empowers you to achieve extraordinary results. Don't miss out on the chance to revolutionize your printing capabilities and unlock endless possibilities with the Mimaki JFX600-2513.