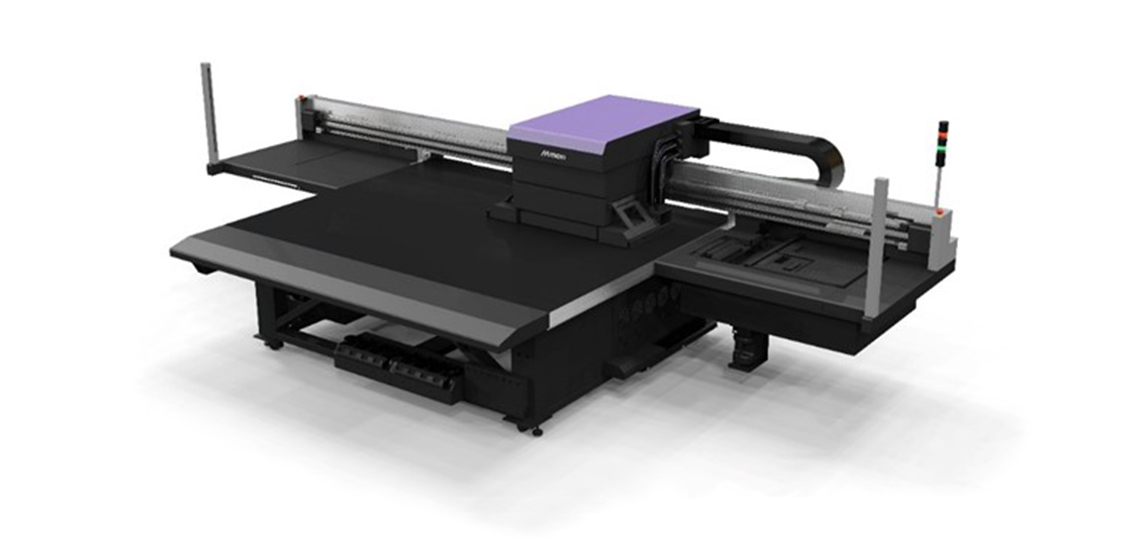 Mimaki Eurasia will show that they have the most comprehensive solutions for digital printing with their 624 m2 booth consisting of four islands at FESPA Eurasia, on December, 2-5.
Mimaki, the leading brand of wide-format inkjet printers and cutting plotters, will have their long-missed meeting with the Turkish market at FESPA Eurasia 2021. Mimaki Eurasia will exhibit the new models, as well as other printing and cutting solutions that have gained great popularity in the market, at their booths A20 / B20 / C20 / D20 in Hall 10 at the exhibition to be held at IFM on December, 2-5. Mimaki Eurasia will take part in the exhibition with an eye-catching booth concept coloured with various applications, and will also attract visitors with its exhibition area consisting of printed objects produced by their users.
Mimaki Eurasia will host their visitors at the largest booth of the exhibition with an area of 624 m2 and aims to increase visitor comfort and enable them to make better use of their time with a four island concept. Visitors will be able to experience advanced Mimaki solutions in Sign Graphics (SG), Industrial Products (IP), Textile and Apparel (TA) as well as 3D printing in operation. In addition to the textile island designed like a living room, the illuminated printing applications that decorate the booth walls will also attract attention. Besides, surprise prints will be presented to the visitors during the event.
Mimaki Eurasia Area Sales Manager Hüseyin Şarerler has said that they are making significant preparations to offer new opportunities to the printing and signage industry. Reminding that they participated in the last FESPA Eurasia in 2019 and that the show could not be held last year due to the pandemic, Şarerler said; "The printing industry managed to overcome the effects of the pandemic very quickly and entered the growth process rapidly. The revival seen in several markets naturally increases the demand for the printing industry and this, in turn, encourages new investments. As Mimaki, in addition to the innovations we will offer to our users in terms of printing speeds and quality, we have prepared serious discounts to create more suitable investment budgets. We look forward to discussing the opportunities to create added value with our users at FESPA Eurasia 2021, where we will be present with our advanced printing solutions in several fields from signage to textiles, from industrial applications to 3D printing".
New models are at FESPA Eurasia for the first time
Various new UV printing models developed by Mimaki will meet the market at FESPA Eurasia 2021, for the first time in Turkey. Visitors will have the chance to experience the JFX600-2513 UV-LED flatbed printers, UJF-3042MkII e and UJF-6042MkII e UV-LED printers and UJF-7151plus II UV-LED printers. In addition, the TS55-1800 sublimation transfer inkjet printer will be presented to the attention of customers with new investment advantages and with its updated price.
JFX600-2513 UV-LED flatbed printer increases production speed by 300% compared to previous models with its increased number of printheads and strengthened hardware. Developed to meet various demands of print service providers, the model offers printing on a wide variety of materials up to 6 cm thick, such as resin, wood, glass and metal used in signage and decoration works. Representing a significant improvement in productivity, the JFX600-2513 also greatly expands the colour gamut. It is able to work with different ink sets and reach a much richer colour gamut with six colour configurations. This model can perform 2.5D prints successfully and was also powered by Mimaki Core Technologies. In addition, Mimaki's GREENGUARD Gold certified UV inks used in printing also ensure that the safety criteria required for the environment and human health are met.
Mimaki's new UJF-MkII e Series printers, offering a large capacity for direct printing to small format products, will also be ready at the booth. In addition to the UJF-3042MkII e UV-LED printing model with a 300 x 420 mm printing area, the UJF-6042MkII e UV-LED printer with a 610 x 420 mm printing area has also been equipped with lots of innovations. The laser sensor enables the material to be detected in a controlled manner and prevents the print head from contacting the material. This gap control sensor detects the material with superior accuracy even in transparent materials and prevents problems before they occur. 3.45-inch full-colour screens make operators' jobs easier. The printers in the UJF-MkII e Series enable photo-quality printing on a wide variety of flexible and rigid materials, including leather, wood, acrylic, metal, glass and allow users to create added value and quickly get a return on their investment.
Another Mimaki innovation awaiting visitors at FESPA Eurasia visitors will be the UJF-7151plus II UV-LED printer. This model has 8 print heads providing dual four-colour (CMYK) ink configuration, increasing the production speed by 190% compared to the previous version. The UJF-7151plus II offers users more speed and new printing possibilities. While MFD2 (half-toning) function improves image quality, advantages such as sharper edges, fine/delicate lines and reduced colour irregularities are also caught in prints. Offering superior image quality up to 1080p dpi, the UJF-7151plus II can give prints a glossy appearance without varnish and create distinctive textures with its innovative Colour Gloss function.
Other solutions to be offered for signage and different applications include; JV100-160 eco-solvent printer, UJV100-160 UV-LED roll-to-roll printer, CJV150-160 integrated print/cut machine, JFX200-2513 EX UV-LED printer, CG-130SRIII cutting plotter and LA-160W laminator.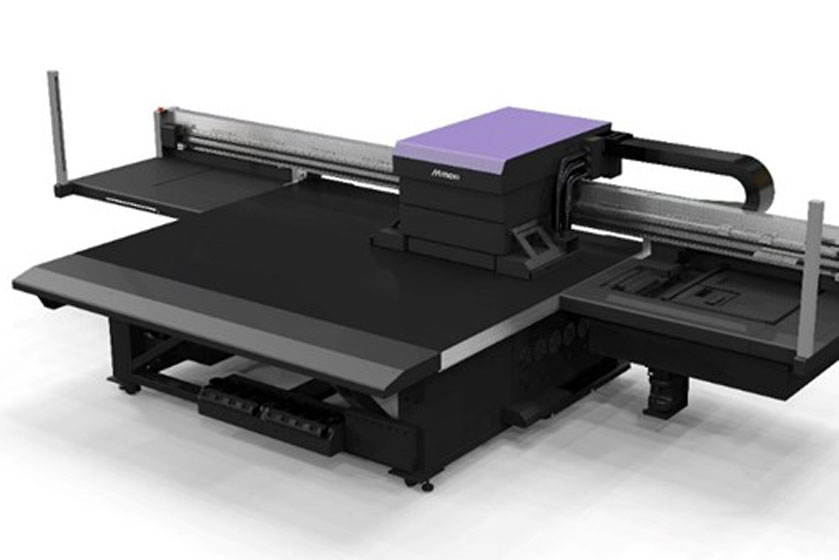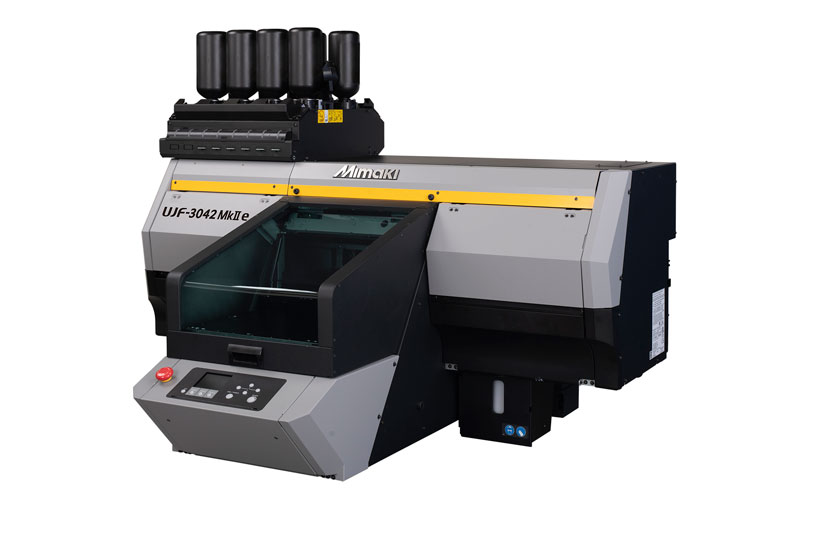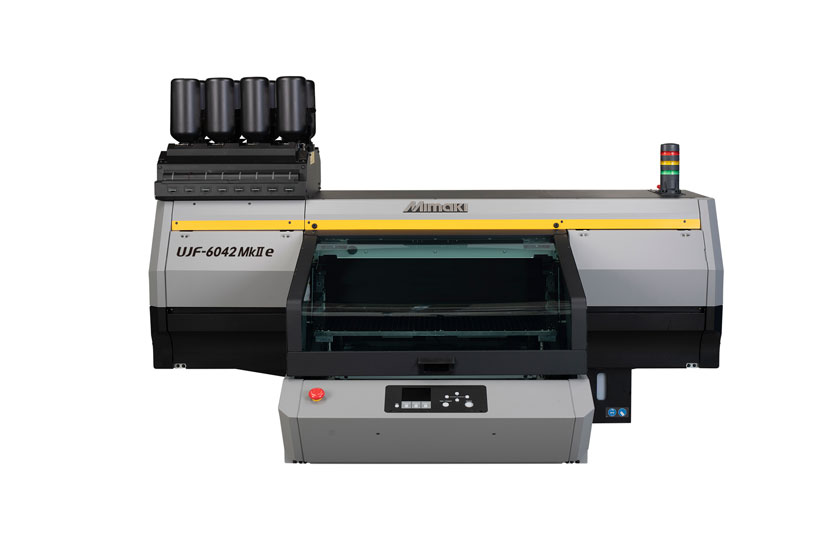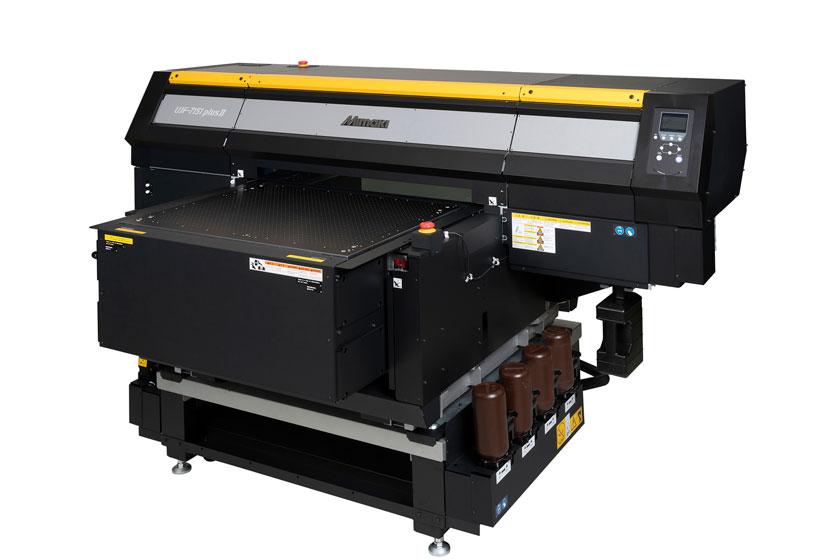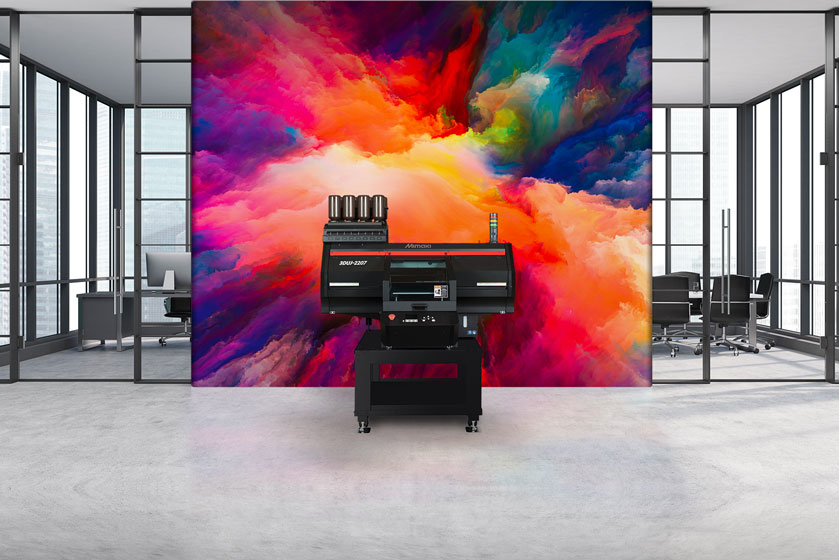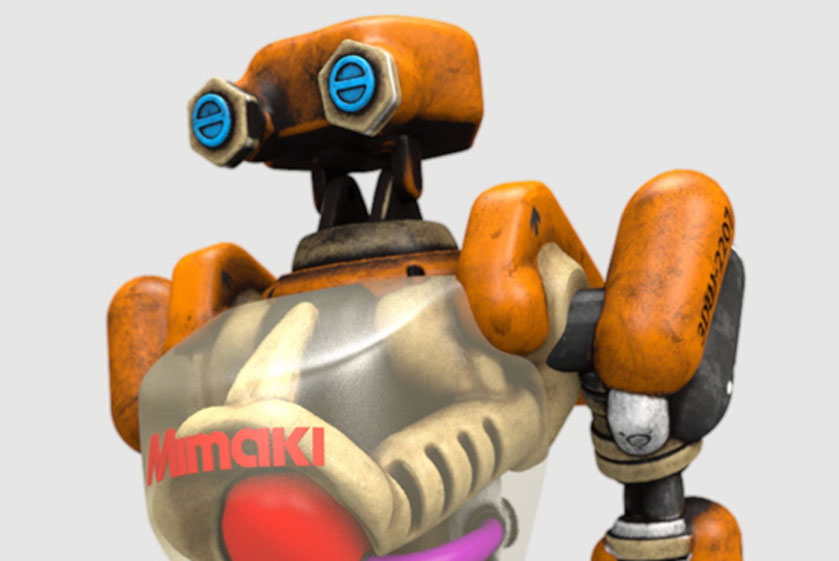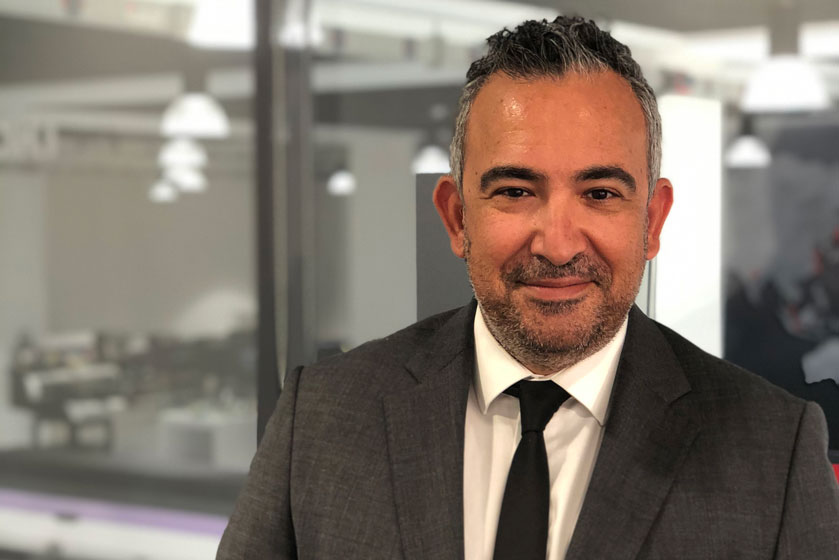 TS55-1800 increased investment attractiveness in textile printing
Mimaki Eurasia will also present the model TS55-1800 sublimation transfer printer with a surprise discount, which has been receiving great interest from the Turkish printing industry. Increasing its investment attractiveness with its updated price, TS55-1800 also reduces production costs with its new 2-liter Sb614 inks. This printer can reach speeds of up to 140 m2 per hour in single-pass printing mode on transfer paper and provides very rich application opportunities for entry and mid-level market segments. The TS55-1800 guarantees superior quality results on both low and high-length jobs and offers an attractive choice for lots of different applications such as sheets and pillowcases, tablecloths, sports and fashion apparel, flags, carpets and interior fabrics. This sublimation transfer printer is equipped with Mimaki Core Technologies such as the Nozzle Check Unit (NCU), Nozzle Recovery System (NRS) and Mimaki Advanced Pass System (MAPS4), just like other Mimaki solutions. Thus, users can perform uninterrupted, error-free, secure and high-quality printing at the lowest cost.
Visitors will also be able to closely examine the TX300P-1800B printer, which can print directly on flexible fabrics, as well as the cost-effective sublimation transfer printer, TS100-1600, of the 100 series.
Accessible 3D solutions are at the Mimaki booth
Different 3D solutions and samples will be waiting for visitors who would like to see cost-effective solutions in 3D printing at the Mimaki Eurasia booth. The 3DUJ-2207 presented to the market at the beginning of 2021 and has the title of the world's first entry-level 3D printer with more than 10 million colours. This 3D printer saves both space and cost by its compact design. 3DUJ-2207 makes it possible to produce many different objects with its modelling area of 203 x 203 x 76 mm, even the most sensitive parts can be printed thanks to its water-soluble support materials. Users can easily produce different grades of transparent, semi-transparent and full-colour models with Mimaki's trademarked clear resins.
Mimaki will introduce the new 3DCS-322 automatic finishing unit, added to its product portfolio to further enhance the 3DUJ-2207 user experience during FESPA Eurasia. This support material removal system, developed in cooperation with AM Solutions, is ready for Industry 4.0 as well as providing high efficiency. This new software-driven technology offers users a smooth and controlled process at a higher speed than traditional methods. Moreover, while doing this, the most precise, detailed geometries and colour nuances of the 3D parts are preserved. 3DCS-322 strengthens Mimaki's comprehensive market claim in 3D printing with attractive price/performance ratio.
The 3DFF-222 Fused Filament Fabrication (FFF) 3D printer will also welcome visitors as another solution. Mimaki addresses a wide variety of applications, such as in-house production of three-dimensional signage and mould manufacturing for vacuum forming with this cost-effective model.
Welcome to the special exhibition of Mimaki users!
Mimaki Eurasia breaks new ground at this year's exhibition. Various printed objects prepared by Mimaki users in different segments from textiles to shoes, from signage to souvenirs and carpets will be exhibited in a special area at the Mimaki Eurasia booth. This exhibition aims to inspire visitors and to further strengthen the bond between users and Mimaki as well. Mimaki Eurasia technical support team will be ready to inform visitors about both products and applications throughout the exhibition.