Amsterdam, August 25, 2015
Dear Valued Customers,
Thank you for your continued support for our products so far.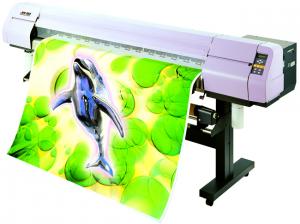 This notice is to inform you that Mimaki has decided to discontinue the technical support for one of our older products, the JV4 Series, to give way and shift our focus towards the recently launched Mimaki TS300P-1800.
While we are not planning further service for the JV4 Series, we have done our best to provide the technical support for the last six years, after the end of sale of the JV4-130, JV4-160 and JV4-180 in September 2009. This means that we may still provide the technical support service until its discontinuation starting from September 2015, unless there are difficulties in obtaining parts or supplies for the machine.
Our sincere apologies for any inconvenience this notice may cause.
However, we believe the recently launched TS300P-1800 will be a great replacement for the JV4 Series. Developed specifically for the textile print industry, the TS300P-1800 offers cost-effective dye sublimation printing without compromising its quality and productivity. We are confident that this product will give you the high quality and outstanding performance that you can expect from Mimaki products.
We trust we have informed you properly. For more information about the discontinuation of service or the new TS300P-1800, please contact your Mimaki sales representative.
Mimaki Europe B.V.