Please see the following.
The error message urges you to replace the wiper ASAP.
Perform [WIPER REPLACE] under the MAINTENANCE menu when replacing the wiper.
Please refer to the Operation Manual to replace the wiper.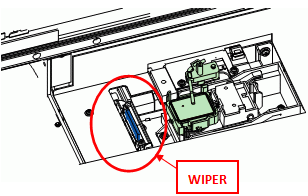 Even after you replaced the wiper, yet not performed [WIPER REPLACE], the error "Replace a WIPER" is still showing. This is because the internal unit counts the number of wiping, and performing the [WIPER REPLACE] resets the counted number.
In fact, you can perform printing if not replacing the wiper. But it may ruin your print heads and we recommend earlier replacement for better maintenance.
Wipers are disposable; and they can be purchased just as you order inks.