Waveform Control

WFC generates a signal that is applied to the piezo element of the print head, which controls the size and speed of the ink droplet. To achieve the best possible sharpness of the image, we want perfect round ink drops at the landing on the media; changing print settings or environmental conditions, such as print resolution, print speed, ink-type, temperature and humidity require the waveform to change in order to maintain the best image quality. Each time a print condition changes, WFC will choose the optimum waveform, achieving the highest image quality at any print speed.
The advantage of Waveform Control explained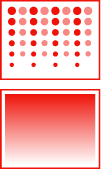 Waveform Control applied
For the best possible image sharpness, ink droplets are jetted in near perfect circles. The high accuracy dot placement provides a sharp finish without the grainy appearance.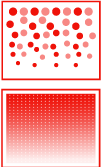 Waveform Control not applied
Without any Waveform Control, ink droplets are jetted in deformed circles. This causes the ink droplets to overlap, leading to a grainy appearance with a blurred edge.