Kick-off 2019 with an incredible offer as part of our UJV55-320 promotion
We are offering the UJV55-320 promotion for a limited amount of time, featuring:
a special discounted price offer*
*This promotion is only valid within the EMEA region and may differ per country.

Please complete the form below to get more information about this promotion.


UJV55-320High performance grand format LED UV inkjet printer with super wide format up to 3.2m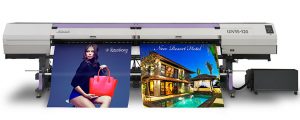 The all new Mimaki UJV55-320 grand format LED UV inkjet printer delivers a unique combination of high quality super wide output for volume production of banners, retail, exhibition and window graphics and other similar applications up to 3.2m wide, with the added versatility of twin-roll simultaneous printing.
Want to know more about this printer? Please check our UVJ55-320 product page.