Kick-off 2019 on a high note with a massive discount on the Mimaki TS300P-1800
"A conventional-to-digital transformation is currently taking place in the textile and apparel industry. As an early mover in this space, Mimaki has always been dedicated to bringing affordable, industry-leading solutions to the segment. By introducing a lower price on the TS300P-1800, we hope to speed up and spread this conventional-to-digital revolution even further."
This limited campaign features a significant price reduction on the machine*. Please fill the form below to get more information.

*This promotion is only valid within the EMEA region and may differ per country.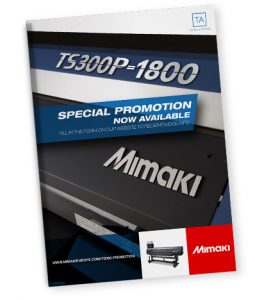 TS300P-1800A high-speed Dye Sublimation Textile Printer

Developed specifically for the textile print industry, the revolutionary Mimaki TS300P-1800 delivers cost effective dye sublimation printing while maintaining high quality and high productivity. Perfectly suited to the creation of fashion, apparel, sportswear, furnishings and point-of-sale materials, the TS300P-1800 uses state-of-the-art technology to set new performance benchmarks for the sector.
Want to know more about this printer? Click on the promotional flyer here next to this text.