SWJ-320
SWJ-320: Affordable Grand Format Solvent Printer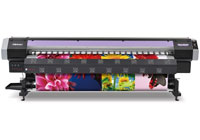 Responding to the needs of our customers in an ever-changing market place, Mimaki have developed the new SWJ-320 series particularly for the signage industry in emerging and more cost-conscious markets. These exciting machines, specifically available to non-European Union countries, offer established world-class Mimaki speed, quality and reliability in a grand format at a more affordable price.
SWJ-320 Series delivers •••
Two models: SWJ-320S2 (standard) and SWJ-320S4 (high speed)
Super wide format printing (up to 3.2m) at a more competitive price
High speed printing up to 83 sqm/h (S4 model) and 51.9 sqm/h (S2 model)
High quality printing with a max. resolution of 1080 x 1200 dpi
Reliable nozzle maintenance functions
New affordable solvent inks

Applications
Specifications
Specifications of SWJ-320
Print head
SWJ-320S2 : On-demand piezo head (2 print heads, in-line configuration)
SWJ-320S4 : On-demand piezo head (4 print heads, 2 staggered)
Maximum print width
Up to 3,200 mm
Printing resolutions
600 / 900 / 1,200 x 360 / 540 / 720 / 1,080 dpi
Ink type
CS100 solvent ink (CMYK)
Ink capacity
2L bottle / each colour
Media Size
Up to 3,250 mm
Roll weight
Feeding: up to 100 kg / Take-up: up to 40 kg
Drying device
Three way intelligent heater (pre/print/after), drying fan unit
Interface
USB 2.0.
Power consumption
Main unit     : AC200~240V, less than 5A
Main heater : AC200~240V, less than 10A
Drying fan   : AC200~240V, less than 14A
Dimensions (w x d x h)
4,560 x 1,200 x 1,405 mm
Weight
Less than 600 kg
Features
Features of SWJ-320
Two Models: SWJ-320S2 and SWJ-320S4
The standard model, SWJ-320S2, features two in-line print heads, while the high speed model SWJ-320S4 has a staggered array of four print heads.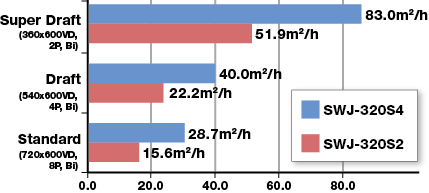 *The Mimaki SWJ-320S2 and SWJ-320S4 are currently available to non-European Union countries.
---
High Resolution and Quality Print
Three different dot sizes (7 pl minimum) and the maximum resolution (1,080 x 1,200 dpi) ensures beautiful print results without a grainy appearance.
---
Proven Nozzle Maintenance Capability



Pressure purging. Pressure is applied to the ink when jetted from the print head.
Automatic suction. When the print head is on a cap, the remaining ink on the head nozzle surface is suctioned.
Automatic wiping. Nozzle surface is automatically wiped.
Nozzle recovery function. The nozzle recovery function temporarily recovers the print operation without long pause, even if the nozzles are clogged. It enables the printer to keep on printing with excellent quality until the service personnel arrives.
*Nozzle recovery function is a temporary failure averting function and its recoverability is limited. This function does not apply on Super Draft Mode.
---
New Affordable CS100 Solvent Ink
Affordable, exceptionally stable, and has low propensity to clog nozzles, the CS100 inks bring the same high Mimaki standards of colour accuracy, image durability and weatherability found in conventional Mimaki solvent inks. Available in 2 liter bottles.
---
Easy-to-use Standard Software

Easy to follow icons enable intuitive and user-friendly operation
Related settings feature in one window to simplify RIP operations, with 'Register as Favourite' option available for regularly used layouts
Printing progress can be monitored on the main screen
Downloads
Downloads of SWJ-320
Please download the Mimaki SWJ320 brochure below.

---

Media
Product Video of the SWJ-320
Product images of the SWJ-320
[/wptabcontent]
FAQ
Frequently asked questions of SWJ-320