UJF-706
UJF-706 Highest Quality Industrial UV Printer
The UJF-706 is an innovative solution for printing companies and manufacturers requiring on-demand, short run production, and variable data printing. The UJF-706 prints on a wide range of objects and media up to 15 cm thickness. With the optional roll unit, the UV curing inkjet printer can also print on roll-to-roll substrates and thin flexible packaging films.
The UJF-706 delivers •••
Direct printing on substrates up to 15 cm thickness
Outstanding print quality and reliability
Variable data printing and imprint capabilities
Simultaneous printing of colour and white
White ink and clear varnish
Optional roll unit for printing on roll-to-roll substrates







Applications
Applications of UJF-706
Substrates and applications
Industrial items, such as control panels
Electronics, e.g mobile phones, laptops, and speakers
Gifts and novelties
Graphic awards
Indoor displays
Cards
Card holders
Glass bottles
Wine boxes
Gift boxes
Tin boxes
Mock-ups or prototypes for packaging, and more!
Specifications
Specifications of UJF-706
| | |
| --- | --- |
| Print head | On-demand piezo head |
| Maximum print area | Width: 700 mm (27.6″), Length: 600 mm (23.6″) |
| Printing resolutions | 600 x 600 dpi, 1200 x 1200 dpi |
| Ink type | Hard UV Ink (CMYK Lc Lm + W + Clear), Flexible UV ink (CMYK Lc Lm + W) |
| Ink capacity | 440 ml per cartridge |
| Media Size | Width : 710 mm (28.0″), Length : 605 mm (23.8″) |
| Media thickness | Up to 150 mm (15 cm) |
| Media weight | Up to 10 kg |
| Media set device | Air suction by vacuum |
| UV device | Equipped with UV lamp |
| Interface | USB 2.0 |
| Power consumption | Less than 4.0 kVA |
| Dimensions (w x d x h) | 2500 mm x 1750 mm x 1,550 mm (68.9″ x 98.4″ x 61.0″) |
| Weight | 505 kg |
Features
Features of UJF-706
On-demand variable data printing
Mark Sensor functionality
UJF-706 ensures that you respond to your clients' requirements with regard to variable data printing and imprinting of names, employee numbers, barcodes, serial numbers etc. by using automatic optical mark recognition on pre-printed items.
---
Hard and Flexible UV Curable Ink
The UJF-706 offers hard and flexible UV ink depending on your needs. The hard ink has excellent scratch resistance and the flexible ink can stretch up to 200%, depending on the media*.
*Some substrates might need pre-treatment (e.g. primer, flaming, or corona)
Simultaneous white ink under and overprint
Print outstandingly colourful, bright images on transparent and coloured substrates with white ink under or overprint without slowing down the print speed.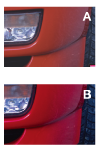 A.4/6 colours only
Without white ink as a basis for overprinting, the colours are not as vivid as they should be.
B.4/6 colours + white
With the white ink overlay print, the images are bright and vivid.

Stunning effects with clear ink
Add value to your prints by using clear ink to create beautiful glossy, matte, or embossed finish–as well as to further protect your image.
---
Other useful features
Mimaki Spray Suppressor System
Equipped with Mimaki Spray Suppressor System, which prevents satellite ink drops, the UJF-706 ensures higher print reliability, consistency, and quality.
Roll unit option for thin films
The optional roll unit allows for continuous on-demand printing of roll-ro-roll substrates and thin flexible packaging films.
Downloads
Downloads of UJF-706
Please download the Mimaki UJF-706 brochure below.

---

Media
FAQ
Frequently asked questions of UJF-706