Tx400 Series
Tx400 Series: Highly Productive Textile Printers
The Tx400 series offers direct printing on polyester and cotton at an exceptionally high speed with superior print quality; the perfect mix for producing soft signage, flags, fabric point of sale, furnishings, fashion and more. The Tx400-1800D is suitable for printing on non-stretchable materials, while the Tx400-1800B is equipped with adhesive belt carrier system for direct printing on stretchable fabrics.
Tx400 Series delivers •••
Printing on cotton, polyester-based materials, and many other fabrics
Substantial reduction in production time
High quality printing, smooth gradation, no restrictions in number of colours
More eco-friendly, compared to screen printing
Low running and ink costs
Unique dye sublimation ink, with low vapor emission during heating





Applications
Applications of Tx400 Series
Substrates
The Tx400 textile printers are capable of printing on cotton, polyester-based materials, and other fabrics.
Applications
The Tx400 series fits in the soft signage market, as well as textiles, such as apparel and furnishings. Thus, the applications are ranging from banners, flags, interior design, furnishings and garments.
Flags
Banners
Garments
Curtains
Bed linen
Table cloths
Garments
Ties
Scarves
And many more
Specifications
Specifications of Tx400 Series
Print head
On-demand piezo head in 3-layered staggered arrangement / 8 colours
Maximum print width
1850 mm
Printing resolutions
600 x 300 dpi, 600 x 450 dpi, 600 x 600 dpi
Ink type
Reactive dye (Rc210) and sublimation dye ink(Sb210)
Ink capacity
16 slots for 2L ink container per colour
in 6- / 8-colour mode: 4L / colour is possible
in 4-colour mode : 8L / colour is possible
Media width
210 – 1860 mm
Roll weight
Tx400-1800D: up to 38 kg, Tx400-1800B: up to 44 kg
Roll inside diameter
Tx400-1800D: 1.5 – 3 inch, Tx400-1800B: 2 – 3 inch
RIP software
Rasterlink Pro 5 TA
Dimensions (w x d x h), incl. ink supply unit
Tx400-1800D: 4300 x 1550 x 1600 mm
Tx400-1800B: 4300 x 2930 x 1650 mm
Weight
Tx400-1800D: 550 kg
Tx400-1800B: 2300 kg
Features
Features of Tx400 Series
Tx400-1800D and Tx400-1800B
The Tx400-1800D allows for direct printing on non-stretchable materials, while Tx400-1800B, which is equipped with adhesive belt carrier system, is suitable for printing stretchable fabrics.
Industrial high speed printing
Depending on print conditions, the Tx400 series is capable of printing up to 99.1 sqm/h.
---
High print quality
Selectable ink drop sizes
Ink drop sizes can be selected according to the substrate and the intended design, in order to achieve sharp and exact reproduction.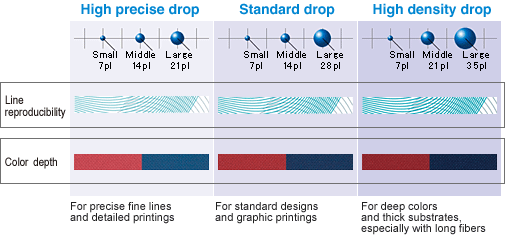 *Inkjet drops may look differently on different substrates, please always test beforehand for each substrate.
---
Inks
Multiple inks, adding versatility
The Tx400 series employs high viscosity inks that are available in two types to suit the type of fabric: reactive dye ink and sublimation dye ink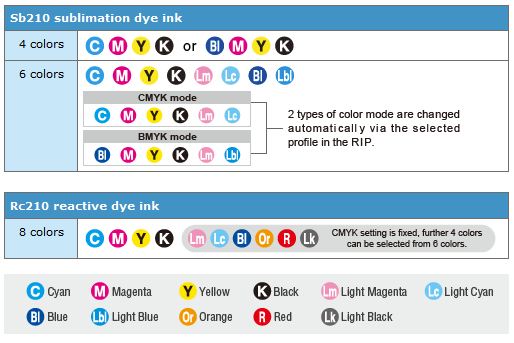 High density black printing
When printing black, the Sb210 ink shows an excellent deep black reproduction and density.
---
Continuous printing
Mimaki Bulk Ink System (MBIS)
16 loading slots for 2L ink container each, thus in 4 color mode a maximum of 8L per color is enabled.

Uninterrupted Ink Supply System (UISS)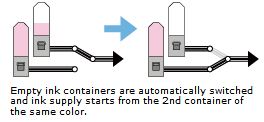 Mimaki's UISS will automatically switch whenever one ink container is empty to the other ink container of the same colour. In addition, operators can exchange the ink containers even when the printer is at work. Therefore UISS enables long continuous print runs.
Brochure
Brochure of Tx400 Series
Please download the Mimaki TX400 Series brochure below.

Media