TS3-1600
TS3-1600 High Speed, Continuous Dye Sublimation Printer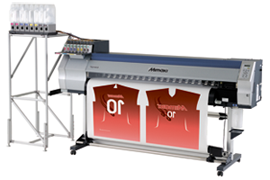 The Mimaki TS3-1600 dye sublimation printer offers outstanding cost performance and great creative potential. It is especially suited for personalised and on-demand jobs for apparel applications, such as sports- and swimwear, workwear, jackets, scarves, ties, and furnishing type of applications.
TS3-1600 delivers •••
Head height adjustment prevents head strikes due to cockled transfer paper
Continuous printing with the UISS (Uninterrupted Ink Supply System)
New ink with high density, brilliant sublimation transfers and original RIP
Outstanding cost performance suitable for starting on-demand print business
New high density, brilliant dye sublimation ink: Sb52



Applications
Specifications
Specifications of TS3-1600
Print head
On-demand Piezo head (180 nozzles x 8 lines x 1 head)
Maximum print width
1,610 mm
Print resolution
540, 720, 1440 dpi
Print speed
12.3 sqm/h (4 colours, 540 x 1080 dpi, 6 pass, bi-directional)
6.3 sqm/h (6 colours, 540 x 1080 dpi, 12 pass, bi-directional)
Ink type
Dye sublimation ink (Sb52 ink)
Sublimation transfer ink (Sb53)
Ink supply system
4-colour mode : 440 cc cartridge x 2/colour, 880 cc/colour
6-colour mode : 440 cc cartridge x 1/colour, 440 cc/colour
*wih the bulk ink system TS3-1600 can hold up to 8 x 2L bags (4 colours)
Media
Width : Up to 1,620mm
Weight : Up to 25 kg
Inside roll diameter : 2-3 inch
Drying device
3 way intelligent heater (Pre/Print/After), ventilation fan unit, drying fan heater
Media take up device
Roll take-up device, inside/outside selectable
Interface
USB 2.0
Power specifications
AC 100V to 120V ± 10%, AC 220V to 240V ± 10% , 50/60 Hz ± 1 Hz
Power consumption
1,440 VA or below
Dimensions (w x d x h)
2,538 x 739 x 1,424 mm
Weight
160 kg
Features
Features of TS3-1600
High print quality and high speed printing
A newly developed high speed print head containing 180 nozzles x 8 lines delivers high speed prints and maintains the high print quality. Print quality in 4-color bidirectional mode is also improved using a "symmetric ink arrangement".

---
Unattended continuous printing
Uninterrupted Ink Supply System (UISS)
The UISS allows for continuous printing in 4-colour mode. When one ink cartridge runs out, another cartridge of the same colour begins supplying ink. Ink cartridges can be changed during printing.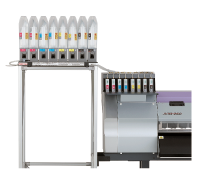 Mimaki Bulk Ink System (MBIS) – optional
The bulk ink system is an eco-friendly ink system that produces less waste while achieving continuous printing. It uses 2-litre ink packs and achieves as stable and reliable ink ejection as printing solely with cartridges. It is possible to use both 2-litre ink packs in combination with regular 220/440cc cartridges.
---
Head height adjustment to prevent head strikes
The head height can be adjusted in three steps from 2 mm up to 5 mm to suit media thickness and to ensure smooth media handling.
Automatic drying fan to increase drying speed (optional)

Drying speed is improved with the use of a post-heater and optional drying fan. The take up device can be used even when printing at high speed.
Downloads
Downloads of TS3-1600
Please download the Mimaki TS-1600 brochure below.

---

Media