TPC-1000
Mimaki TPC-1000: Inkjet Printer / Cutter for Apparel
The Mimaki TPC-1000 offers printing and cutting for textiles and apparel applications. Heat transfer your fashionable design to shirts, mouse pads, sportswear and many more!
The Mimaki TPC-1000 delivers •••
Print and cut width of 103 cm
High quality printing up to 1440 dpi
Automatic switching from printing to cutting
Continuous crop mark detection for accurate contour cutting
Simultaneous white and full colour printing
Continuous printing with the Uninterrupted Ink Supply System
RIP, cutting, and creation software included





Applications
Applications of the TPC-1000
Promotional prints and textiles, such as T-shirts, caps, football jerseys, sweaters, mouse pads, mugs and more.
Substrates
Transfer paper  
Specifications
Specifications of TPC-1000 Series
Maximum print/cut width
102 cm
Printing resolutions
540, 720, 1440 dpi
Ink type

Dye sublimation ink   : Sb52, Sb53 ink

Solvent ink               : SS21, ES3 ink

Ink capacity

4-colour mode: 440 cc x 2 = 880 cc per colour

6-colour mode: 440 cc x 1 = 440 cc per colour

Media Size
103 cm
Roll weight
Less than 25 kg
Roll inside diameter
2 or 3 inch
Maximum cutting speed
30 cm/s
Media heater
Pre/print/post heater
Interface
USB 2.0
Power
AC100V-240V, less than 1380 VA
Dimensions (w x d x h)
193.4 cm x 73.9 cm x 142.4 cm
Weight
130 kg
Features
Features of TPC-1000
The Sublimation Process
In the dye sublimation or solvent transfer printing, the image is printed onto transfer media. The type of media depends on your printer, the type of ink and the output you need. Dye sub ink requires a transfer paper, while solvent ink requires a heat transfer flexible vinyl. After printing, a heat press or calendar is needed to fix the image onto the substrate.
---
Mimaki Advanced Pass System (MAPS)
When banding cannot be eliminated by feed correction, the MAPS function makes it less visible by dispersing pass boundaries. (NB: when using MAPS, the print speed depends on the selected mode) Nozzle Recovery Function In the event of a nozzle malfunction not being repairable by the use of the maintenance function, printing can continue by the use of another nozzle, without any loss of productivity or reduction in image quality.
---
Automatic Switching from Printing to Cutting

The number of pinch rollers and clamp pressure can be adjusted in the Mimaki RIP software. The clamp pressure is then automatically changed to suit the media. The TPC-1000 can automatically switch from printing to cutting, which allows for an unattended operation.
---
Precise Contour Cutting
The Continuous Crop Mark Detection function automatically reads the registration marks on the print to precisely position the cutter. It enables you to easily create letters and precise contour shapes to be transferred to apparel applications.
---
Multiple Ink Options: Sublimation or Solvent
Sb52 and Sb53 Sublimation Inks
Mimaki's sublimation prints give high durability, even after washing and dry cleaning. Both sublimation inks produce brilliant colour expression and feature high density black printing.
SS21 Solvent Inks
SS21 fast drying solvent ink enables immediate cutting after printing and eliminates peeling when cut. Mimaki's innovative SS21 white ink is available for printing on transparent and coloured substrates.
ES3 Eco-Solvent Inks
Virtually odourless and user-friendly ink that does not require any special ventilation. White and metallic inks available.
---
Uninterrupted Ink Supply System (UISS)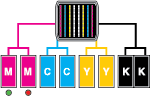 The unique Uninterrupted Ink Supply System (UISS) automatically switches to another cartridge when supply runs out, allowing overnight continuous operation. Ink cartridges can also be replaced during operation. When one ink cartridge runs out of ink, the indicator will light up red, while the system switches automatically to the second cartridge of the same colour.
---
Easy-to-use Standard Software
Three different software packages are included as standard. From RIP to cutting, the software answers all professional requirements for multiple applications. In addition, easy to operate software for preparing the print and cut data is enclosed.
Download
Media