JV33 Series
JV33 Series: The Much Loved and Awarded JV33 Just Got Faster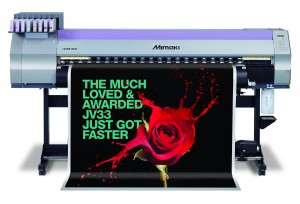 Mimaki's JV33 Series with wide format inkjet printers (1.3 m and 1.6 m) offer a superb mix of high quality output, high speed printing, and user-friendly operation at an affordable price; the best return on your investment.
JV33 Series delivers •••
New! with MAPS Mimaki Advanced Pass System 10% speed increase
Printing up to 17.5 sqm/h (quality print mode: 11.9 sqm/h)
Exclusive mild solvent and eco solvent inks available, including white ink (SS21 ink)
Print and cut combo with the CG-FXII series cutting plotters
Unattended continuous printing with UISS
Also available as water based model for dye sublimation transfer printing and aqueous pigment inks for indoor applications
JV33 BS: Ultimate costperformance
The JV33 BS is specifically available to non-European Union countries
Available in three sizes (137, 162, 264 cm), JV33 BS Series offers a superb mix of high quality output, high speed printing, and user friendly operation at an affordable price, achieving the ultimate cost performance.
JV33 BS Series delivers •••
JV33 BS Series delivers truly high quality print of 1440 dpi
JV33 BS Series can utilize two cartridges per colour in 4-colour mode
BS2 Ink; Mimaki's original affordable Solvent Ink






Applications
Applications of JV33 Series
Substrates
Vinyl, banner, paper, canvas, (blueback) paper, PET. Transparent and coloured substrates can be used in combination with SS21 white ink.


Applications of JV33 Series
Banners, backlit signs, pop displays, floor graphics, labels, posters, high quality stickers, vehicle wrap, window signage and more.
JV33 series is also available as aqueous models for dye sublimation transfer printing and indoor graphics.
Specifications
Specifications of JV33 Series
Print head
On-demand piezo head (180 x 8 lines) x 1 head
Maximum print width
JV33-130: 136 cm
JV33-160: 161 cm
Printing resolutions
540, 720, 1440 dpi
Ink type
Exclusive solvent ink: ES3 ink, SS21 ink
(dye sublimation inks and pigment inks for aqueous models)
JV33-BS (only available at non EU countries): BS2 ink
Ink capacity
4-colour mode: 440 cc cartridge x 2 / colour, 880 cc /
6-colour mode: 440 cc cartridge x 1 / colour, 440 cc / colour
White and silver ink available
BS2 Ink: 4-colour mode: 600 cc ink pack x 2/colour, 1200 cc/colour
Media Size
JV33-130: 21-137 cm
JV33-160: 21-162 cm
Roll weight
JV33-130/160: max. 25 kg
JV33-260 max. 100kg
Roll inside diameter
2 or 3 inch
Media heater
Triple stage intelligent heater (pre/print/post)
Interface
USB 2.0.
Power consumption
Less than 1,440VA
Dimensions (w x d x h)
JV33-130: 229 cm x 74 cm x 142 cm
JV33-160: 254 cm x 74 cm x 142 cm
Weight
JV33-130: 145 kg
JV33-160: 160 kg
Features
Features of JV33 Series
Better and faster – JV33 series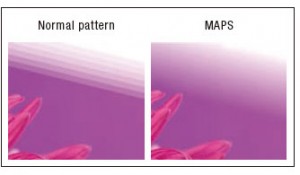 The new JV33 is an updated version of Mimaki's top selling JV33 roll-to-roll series of solvent inkjet products.
A key enhancement is the addition of Mimaki Advanced Pass System (MAPS) technology, which is an innovative approach to discharging ink droplets to minimize, or even eliminate, banding in high production mode. MAPS is highly configurable to adjust the jetting process to meet specific production needs including adjustments to print speeds. The MAPS system will allow at least a 10% speed increase to the already fast printing solution and will function with all ink sets.
---
Print speed comparison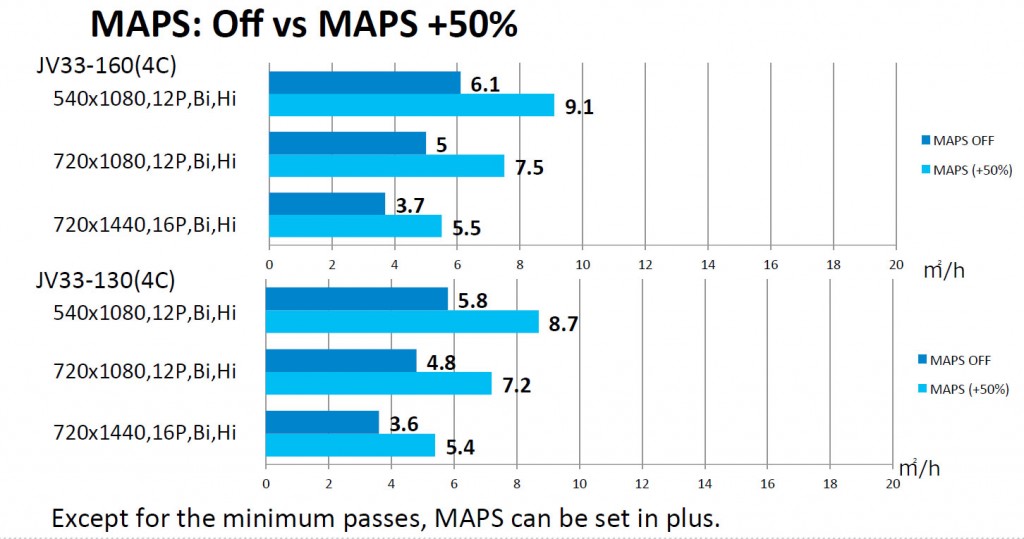 ---
High resolution and high speed printing


With its increased print head accuracy, the JV33 Series delivers truly high quality print of 1440 dpi. In addition, the improved ink firing frequency has increased the print speed by 30% over the JV3 Series.
JV33 Print speeds
When printing in 6-colour mode, the speed is approximately 50% lower.
---
Two solvent inks available
SS21 solvent ink
SS21 fast drying solvent ink enables immediate cutting after printing and eliminates peeling when cut. Mimaki's innovative SS21 white ink is available for printing on transparent and coloured substrates, such as window decoration.
ES3 eco-solvent ink
Virtually odourless and user-friendly ink that does not require any special ventilation. Available in white and silver ink for producing more vivid colours and creating stunning metallic effects.
JV33 is also available as aqueous models for dye sublimation inks and pigment inks.
---
JV33 BS: BS2 Ink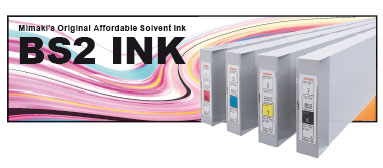 Non EU countries only
Not only is BS2 ink very affordable, but it also achieves high drying capacity and minimal ink bleeding. Other benefits include high scratch resistance and a wide colour gamut. Additionally, BS2 ink users enjoy one-year Mimaki warranty, which includes print heads. BS2 ink is available in 600 ml replaceable ink packs.
---
Unattended continuous printing
Uninterrupted Ink Supply System (UISS)
Standard on JV33 is the Uninterrupted Ink Supply System. This system allows for continuous printing in 4-colour mode. A maximum of 880 cc ink per colour can be loaded at one time. When one ink cartridge runs out, another cartridge of the same colour begins supplying ink. Ink cartridges can be changed during printing. With 880 cc of ink, a 50 m roll of media can be printed without interruption.
---
Mimaki Bulk Ink System (MBIS) – optional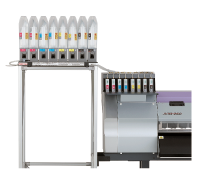 The bulk ink system is an eco-friendly ink system that produces less waste while achieving continuous printing. It uses 2-litre ink packs and achieves as stable and reliable ink ejection as printing solely with cartridges. It is possible to use both 2-litre ink packs in combination with regular 220/440cc cartridges.
---
Other Useful Functions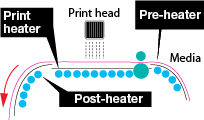 Triple Stage Intelligent Heater
The triple stage intelligent heater automatically heats up the media to the appropriate temperature. Thereby improving the performance of the ink. The mounted post-heater quickens the drying time and thus enables a fast take-up of the media.
Stable media feeding
The multi point grid roller system ensures stable feeding of the media, which is especially important for long unattended print runs.
Standard included RIP software
The high performance RasterLink RIP software helps you to utilise the various functions of the JV33 series.
Downloads
Downloads of JV33 Series
Please download the Mimaki JV33 Series brochure below
---

Media
FAQ
Frequently asked questions of JV33 Series