JFXplus Series
JFXplus Series High Precision Large Format UV LED Printer
Plus higher speed, plus more flexibility
Always striving for precision and innovation, Mimaki added the new JFXplus Series to its line-up of UV inkjet printers. It features 80% higher print speed compared to its predecessor. With two sizes and the possibility to print on rigid and roll media, the JFX plus series offers outstanding flexibility in addition to its exceptional quality.
JFXplus Series delivers •••
High precision printing up to 1200 dpi, even 3-point characters can be legibly printed
No media deformation, no drying time, no warm up time
Maximum speed of 23.6 sqm/h with post-curing unit
Two sizes: 160 x 310 cm and 160 x 150 cm
Flexible and hard UV LED inks, including white and clear varnish
Environmentally-friendly printing technology
Optional roll unit for printing on roll substrates





Applications
Applications of JFXplus Series

Substrates and applications
The JFX plus UV LED flatbed inkjet printers can print on an extensive range of materials, such as:
Acrylics
Polycarbonates
PVC
Glass
Aluminium
Metal
Polyesters
Foam board
Styrene
Wood
Stone
Vinyl, banner, etc. (with optional roll unit)
Attention should be paid to ink adhesion, even though it will print onto almost any substrate, levels of adhesion do differ between materials. The range of possible applications is practically limitless. A selection:
Accessories
Art reproduction
Backlit graphics
Construction signs
Displays
Exhibition signs
Rigid packaging
Lenticular (printing with 3D effects)
ID cards
Logos (3D)
Operation panels
Promotional items
Relational gifts
Specifications
Specifications of JFXplus Series
 
JFX-1631plus
JFX-1615plus
Print head
On-demand Piezo-electric head
Max. print width
Width: 1,602 mm (63.1″), Length: 3,100 mm (122″)
Width: 1,602 mm (63.1″), Length: 1,500 mm (59.1″)
Printing resolutions
300 x 600 dpi, 450 x 600 dpi, 600 x 600 dpi, 600 x 1200 dpi, 1200 x 1200 dpi
Ink type
LH-100 hard UV ink (C M Y K + W + CL)
LF-200 flexible UV ink (C M Y K + W)
LF-140 ink (C M Y K Lc Lm + W)
Media size
1,644 mm – 3,194 mm (64.7″ — 125.7″)
1,644 x 1,594 mm (64.7″ x 62.8″)
Media thickness
Max. 50 mm (1.97″)
Media weight
Up to 50 kg (110.2 lbs.) (when media is loaded evenly)
Media set device
Air suction by vacuum (optional)
Applicable standard
VCCI class A, CE Marking, CB Report, UL, RoHS Directive
Interface
USB 2.0
Power consumption
AC 200 – 240 V, 50 / 60 Hz ; Less than 2,0 kVA
Dimensions (w x d x h)
4,200 mm x 4,300 mm x 1,600 mm (165.4″ x 169.3″ x 63.0″)
4,200 x 2,620 x 1,600 mm (165.4″ x 103.1″ x 63″)
Weight
1,613 kg
1,313 kg
* The specifications table above excludes post-curing unit.
Post curing unit
Carrier system
Page-to-page
Media width
300 mm – 1,600 mm (11.8″ – 63″)
Media thickness
0.025 mm – 1.0 mm (0.002 – 0.04″)
Media weight
Up to 50 kg
Roll outside diameter
Up to 200 mm
Roll inside diameter
3 inch
Print surface
Inside / outside selectable
Power specifications
1-phase: AC 200 – 240 V, 50/60 Hz (power from main unit)
Power consumption
Less than 150 VA
Dimensions (W x D x H)
With JFX-1631plus: 4,300 x 5,000 x 1,600 mm (169.3 x 196.9 x 63″)
With JFX-1615plus: 4,300 x 3,500 x 1,600 mm (169.3 x 137.8 x 63″)
Weight
With JFX-1631plus: 1,813 kg
With JFX-1615plus: 1,513 kg
Features
Features of JFXplus Series
UV LED Curing Technology
The Mimaki JFXplus series employs UV LED printing technology, which does not generate excessive heat, allowing the machine to print directly on a wide range of substrates, including heat-sensitive materials, without any media deformation.
No drying time, immediately ready for post-processing
Aqueous or solvent inks require post printing drying. This is eliminated using UV technology and consequently, the media is ready for laminating immediately after printing. The job turnaround time from printing to processing is shortened and improves work efficiency and productivity.
---
More Precise, High Quality Printing
Intelligent Microstepping System (IMS)
The IMS uses high resolution linear scale for fine step accuracy of dot placement. This results in far fewer banding and even the possibility to print legible 3-point characters.
High Resolution up to 1200dpi and Variable Drops
High image quality is achieved by utilising a resolution up to 1200 x 1200 dpi and variable dot sizes. Even printing in 4-colour mode realises a non-grainy print, thus prints show smooth gradations and highly detailed images.
Fast printing with post-curing unit
The JFX plus is equipped with a post-curing unit that cures the print after its first exposure by UV LEDs, thus enabling nearly double the speed as previous models. This caters the needs for fast turnarounds, quick changes, and short run orders while increasing productivity and efficiency at the same time.
* The print size of JFXplus is slightly reduced when using post-curing unit. Please contact us for more info.
---
Three Types of UV Curable Ink
Three types of ink are available for the JFXplus series. LH-100 hard UV ink excels in scratch and chemical resistance as well as in colour reproduction; LF-200 flexible UV ink enables stretching of ink up to 200% during post-processing work; LF-140 offers strong gradation in 6-colour printing and is more flexible than LH-100 ink.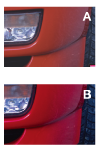 Simultaneous white ink under and overprint
Print outstandingly colourful, bright images on transparent and coloured substrates with white ink under or overprint without slowing down the print speed.
A. 4/6 colours only
Without white ink as a basis for overprinting, the colours are not as vivid as they should be.
B.4/6 colours + white
With the white ink overlay print, the images are bright and vivid.

Stunning effects with clear ink
Add value to your prints by using clear ink to create beautiful glossy, matte, or embossed finish–as well as to further protect your image.
---
Automatic Primer Application Function
Both printers incorporate an automatic primer feature, simplifying pre-priming process, which is traditionally done manually by wiping or spraying. Mimaki's inkjet primer cartridge is simply inserted into the corresponding ink slot of JFX-Plus, enabling the primer to specifically target the print image area only.

*Always test your intended materials before using primer. When printing with primer and white / clear ink, production speed is reduced to some extent.
---
Ultimate flexibility
Two sizes available
JFXplus series is available in two models: JFX-1631plus with a print area of 160 x 310 cm and JFX-1615plus with 160 x 150 cm.
Printing on both roll substrates and roll media
JFXplus also answers the demand of print service providers for hybrid printing on roll media. With the optional roll unit, this UV LED flatbed inkjet printer series can print page-to-page on roll media.
---
Environmentally-friendly Technology
UV LEDs have longer life and consume less energy than conventional UV lamps
Less transfer waste and no wasted inventory by printing on-demand, direct-to-substrate
No noticeable odour and no excessive noise
Brochure
Brochure of JFXplus Series
Please download the Mimaki JFXplus Series brochure below.