CJV30 Series
Mimaki CJV30 Series: Integrated Inkjet Printer / Cutters (Print and Cut)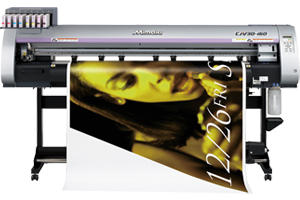 Mimaki has further expanded its award winning sign and graphics systems with the CJV30 Series of unique integrated print and cut solutions – with 4 print widths available, providing even greater flexibility for end-users from retailers and copy shops to professional signmakers and print service providers.
Mimaki CJV30 series delivers •••
4 different print widths (60 / 100 / 130 / 160 cm)
High quality printing up to 1440 dpi
Maximum printing speed 17.5 m2/h
Automatic switching from printing to cutting
Continuous crop mark detection for accurate contour cutting
Simultaneous white and full colour printing
Sparkling Metallic ink
Continuous printing with the Uninterrupted Ink Supply System
RIP, cutting, and creation software included
CJV30 BS Series: High performance print and cut solution
Mimaki CJV30 BS series delivers •••
The CJV30 BS is specifically available to non-European Union countries
Very affordable BS2 ink
BS2 ink is available in 600 ml replaceable ink packs.
high drying capacity and minimal ink bleeding




Applications
Applications of CJV Series
CJV30-60
High quality seals, labels, stickers, A1 posters, promotional prints, and point of purchase displays, transfers for T-shirts and more.
CJV30-100
A0/A1 posters, POP displays, high quality stickers, labels, seals, transfers for T-shirts and more.
CJV30-130 / CJV30-160
Large sized signs, such as large posters, vehicle graphics, POP displays, backlit, window decoration, floor signage and more.


Substrates
Vinyl, banner, canvas, (blueback) paper, solvent transfer paper, and more
Specifications
Specifications of CJV30 Series
Maximum print/cut width
CJV30-60 : 61 cm
CJV30-100 : 102 cm
CJV30-130 : 136.1 cm
CJV30-160 : 161 cm
Printing resolutions
540, 720, 1440 dpi
Ink type
Solvent ink: SS21, ES3 ink
CJV30 BS: BS2 Ink
Ink capacity
4-colour mode: 440 cc x 2 = 880 cc per colour
6-colour mode: 440 cc x 1 = 440 cc per colour
CJV30 BS: 4-colour mode: 600 cc x 2 = 1200 cc per colour
Media Size
CJV30-60 : 62 cm
CJV30-100 : 103 cm
CJV30-130 : 137.1 cm
CJV30-160 : 162 cm
Roll weight
Less than 25 kg
Roll inside diameter
2 or 3 inch
Maximum cutting speed
30 cm/s
Media heater
Pre/print/post heater
Interface
USB 2.0
Power
AC100V-240V, less than 1380 VA
Dimensions (w x d x h)
CJV30-60 : 152.4 cm x 73.9 cm x 142.4 cm
CJV30-100 : 193.4 cm x 73.9 cm x 142.4 cm
CJV30-130 : 228.9 cm x 73.9 cm x 142.4 cm
CJV30-160 : 253.8 cm x 73.9 cm x 142.4 cm
Weight
CJV30-60 : 110 kg
CJV30-100 : 130 kg
CJV30-130 : 145 kg
CJV30-160 : 160 kg
Features
Features of CJV30 Series
High speed and high quality
Mimaki's CJV30 series comes in 4 different print widths and is capable of printing up to 17.5 sqm/h (540 x 720 dpi, 4 colours). In standard mode CJV30 can print 11.9 sqm/h (540 x 1080 dpi, 4 colours). The symmetrical ink cartridge arrangement enables reliable and detailed high quality image generation even with bidirectional printing.
CJV30 can print up to 1440 dpi with three different dot sizes. With Mimaki's unique white ink overlay feature, even more vivid images can be realised. More brilliant colour is made possible, especially when printing on transparent media.
---
Mimaki Advanced Pass System (MAPS)
When banding cannot be eliminated by feed correction, the MAPS function makes it less visible by dispersing pass boundaries. (NB: when using MAPS, the print speed depends on the selected mode) Nozzle Recovery Function In the event of a nozzle malfunction not being repairable by the use of the maintenance function, printing can continue by the use of another nozzle, without any loss of productivity or reduction in image quality.
---
Automatic switching from printing to cutting

The number of pinch rollers and their clamp pressures can be set from the RIP software and the pinch roller pressure is automatically changed to suit the thickness of the media. By raising the pinch rollers in the middle at the time of cutting, peeling-off media after cutting is eliminated.
This full automatic function enables unattended operation without manual intervention from the start of printing to the end of cutting. CJV30 automatically adjusts to ensure accurate media feed.
---
Advanced Cutting Functions
Accurate contour cutting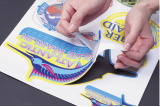 For accurate contour cutting of printed images, the continuous crop mark detection recognises registration marks that are printed on the media. Even with a laminated print, contour cutting is performed with great accuracy.
Mimaki's Half-Cut function
This function creates a series of half and die cuts leaving a few minimal connection points preventing the image from falling out when printing stickers etc.
---
Two solvent inks available
SS21 solvent ink


SS21 fast drying solvent ink enables immediate cutting after printing and eliminates peeling when cut. Mimaki's innovative SS21 white ink is available for printing on transparent and coloured substrates, such as window decoration.
ES3 eco-solvent ink
Virtually odourless and user-friendly ink that does not require any special ventilation. Available in white and silver ink for producing more vivid colours and creating stunning metallic effects.
---
CJV30BS: BS2 Solvent ink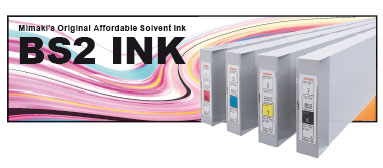 Not only is BS2 ink very affordable, but it also achieves high drying capacity and minimal ink bleeding. Other benefi ts include high scratch resistance and a wide colour gamut. Additionally, BS2 ink users enjoy one-year Mimaki warranty,
which includes print heads. BS2 ink is available in 600 ml replaceable ink packs.
---
Uninterrupted Ink Supply System (UISS)
The unique Uninterrupted Ink Supply System (UISS) automatically switches to another cartridge when supply runs out, allowing overnight continuous operation. Ink cartridges can also be replaced during operation.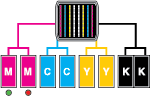 When one ink cartridge runs out of ink, the indicator will light up red, while the system switches automatically to the second cartridge of the same colour.
---
Easy-to-use Standard Software
Three different software packages are included as standard. From RIP to cutting, the software answers all professional requirements for multiple applications. In addition, easy to operate software for preparing the print and cut data is enclosed.
Downloads
Downloads of CJV30 Series
Please download the Mimaki CJV30 Series brochure below

---

Media
FAQ
Frequently asked questions of CJV30 Series