Enables brands and converters to affordably produce special or customised short runs
Amsterdam, June 26, 2017
Mimaki today announced that it will be bringing a variety of innovative digital print-and-cut solutions for short-run and customised labels and packaging to Labelexpo Europe 2017. The show, scheduled for 25 to 28 September in Brussels, bears the theme of "Gain an Unfair Advantage," and Mimaki experts will be on hand to help attendees achieve that goal on Stand 8A08.
"Brands are increasingly looking for ways to differentiate labels and packaging for better market performance," says Ronald Van den Broek, General Manager Sales at Mimaki Europe. "While this is an effective approach for brands, it can put strain on conventional labels and packaging workflows due to the shorter runs and faster time to market these strategies demand. Plus, there is a growing need for fast production of samples and mock-ups to speed the design process. At Mimaki, we have worked hard to develop innovative, affordable ways to ensure labels and packaging converters can meet these changing customer requirements, and visitors to our stand will see it all in action."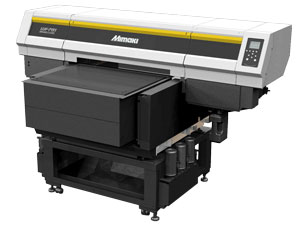 Direct printing on rigid substrates
At the show, Mimaki will be using its UJF-7151plus to demonstrate direct printing on rigid substrates to create high-quality nameplates suitable for industrial marking or placarding. Additionally, a small laser-cutting device will be used in combination with the printer to cut rigid labels to finished product. Visitors will be pleased with the simplicity and affordability this solution delivers, especially for short-run production of industrial applications such as identification plates or number plates. The UJF-7151plus, a compact UV LED direct- to-object printer, utilises state-of-the-art technology to deliver a powerful and reliable digital alternative to traditional screen print operations. With a print resolution of up to 1200 dpi, the UJF-7151plus features a 710 x 510 mm printable area using process, white and clear inks plus primer.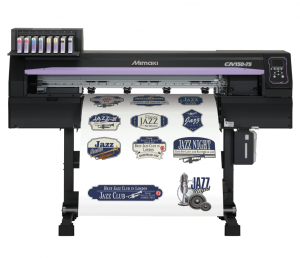 Silver ink for stunning labels
Mimaki will also be showing print-and-cut of high quality specialised labels using silver ink. The CJV150 Series integrated printer/cutter solutions provide high performance, creativity and versatility with vibrant ink types, including silver, orange and light black, in a cost-effective solution for label printing. At a resolution of up to 1440 dpi and speeds of up to 56.2 m2, this solvent ink printer is a handy addition to any label converting operation.

Up to speed on corrugated
Digital direct-to-corrugated printing is another hot topic Mimaki will address at Labelexpo Europe 2017. "With the combination of the Mimaki UJF-6042MkII printer and the CFL-605RT cutting table, operations can quickly and affordably create corrugated items, from boxes to in-store displays, featuring stunning graphics sure to draw attention," adds Van den Broek.

The UJF-6042MkII flatbed LED UV printer, with a maximum print area of 610 x 420 mm, brings increased productivity and ease of use to on-demand, direct-to-corrugated printing. It is also ideal for other labels and packaging applications as well as for the creation of signs, displays and other graphically rich applications, including substrates up to 153mm thick. It features a choice of inks, including LH-100 (a hard UV curable ink with high scratch and chemical resistance and brilliant colour reproduction) or LUS-120 (suitable for printing on soft materials). Each is available in nine colours including white, clear and primer.


Printing on 360o surfaces
Mimaki will also be showing its popular Kebab option, an affordable direct-to-object 360º printing solution. At the show, the Kebab option will be shown printing on glass and plastic bottles with the Mimaki UJF-3042MkII flatbed LED UV printer.

Van den Broek concludes, "We are truly looking forward to welcoming visitors to our stand at Labelexpo Europe 2017 and exploring ways to help them 'gain an unfair advantage' in the highly competitive and rapidly evolving labels and packaging market. We have lots of innovative ideas to share with them, and we believe these discussions will spark even more creative approaches they can take back to their businesses for continued growth, profitability and competitive advantage."