Kick-off 2019 with an incredible offer as part of our JFX200-2513 promotion
We are offering the JFX200-2513 promotion for a limited amount of time, featuring:
a special discounted price offer; and

a 3-year full warranty (instead of 1 year).*
*This promotion is only valid within the EMEA region and may differ per country.

Please complete the form below to get more information about this promotion.

JFX200-2513High-performance large flatbed LED UV printer with high density white printing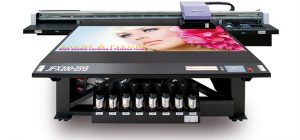 Mimaki's class-leading JFX200 Series of flatbed LED UV printers is expanded with the addition of the JFX200-2531. The JFX200-2531 has twice the printing area as compared with the entry model JFX200-2513. With this large bed size and some new features, the JFX200-2531 delivers unparalleled performance and productivity for professional sign and graphics companies.
Want to know more about this printer? Please check our JFX200-2513 product page.