Mimaki Europe B.V.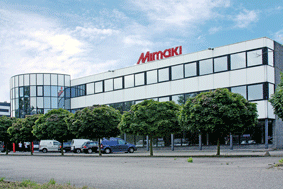 Mimaki Europe B.V., established in Amsterdam in 2004, is responsible for the Sales, Marketing, Logistics, Administration and Technical Services through distributors and resellers for all EMEA countries.
With warehouses in Amsterdam, we supply products to all EMEA business regions. Mimaki Europe B.V. is a fully owned subsidiary of Mimaki Engineering Co. Ltd. (President: Kazuaki Ikeda) Nagano (Japan).
Mimaki Engineering Co. Ltd.
Mimaki is a leading manufacturer of wide-format inkjet printers and cutting machines for the sign/graphics, textile/apparel and industrial markets. Mimaki develops the complete product range for each group; hardware, software and the associated consumable items, such as inks and cutting blades.
Mimaki excels in offering innovative, high quality and high reliability products, based upon its Aqueous dye sublimation, Latex, Eco-solvent, Solvent-UV, Solvent and UV-curable inkjet technology. In order to meet a wide range of applications in the market, we pursue on-demand digital printing solutions. Mimaki Engineering Co. Ltd. is publicly listed on the JASDAQ Securities Exchange, Inc.
 Company Name
MIMAKI ENGINEERING Co., Ltd.
 Foundation
August 1975
 Capital
4,357 million yen
 Location
2182-3 Shigeno-Otsu, Tomi-city, Nagano, Japan
Tel: +81‒268‒64‒2281(representative) / Fax: +81‒268‒64‒2285
 Board Members

| | |
| --- | --- |
|  Executive Chairman |  Akira Ikeda |
|  President |  Kazuaki Ikeda |
|  Executive Vice President |  Sakae Sagane |
|  Managing Director |  Kazuyuki Takeuchi |
|  Director |  Hisayuki Kobayashi |
|  Director |  Masaaki Fujita |
|  Counselor for Director |  Noriyuki Tanaka |
|  Outside Director |  Makoto Tanaka |
|  Auditor (Full-Time) |  Masayoshi Tsuchiya |
|  Outside Auditor |  Tomokazu Iwashita |
|  Outside Auditor |  Yukio Tsuchiya |

 Employees
680 (Mimaki Engineering only). 1,378 (Consolidated)
As of March.31, 2015
 Business Area
Development, manufacturing, and sales of computer devices and software
 Main banks
Hachijuni Bank Ltd., Bank of Tokyo-Mitsubishi UFJ, Ltd.,
Sumitomo Mitsui Banking Corporation , Mizuho Bank Ltd.
 Listings
the first section of the Tokyo Stock Exchange
 Securities code
6638
Financial Highlights